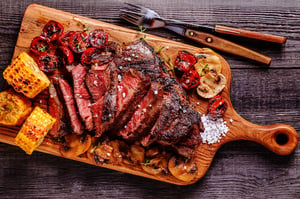 Just because you're celebrating St. Patricks Day doesn't mean corned beef and boiled potatoes have to be your meal of choice.
There are a variety of Irish-inspired dishes you can make in your outdoor kitchen that transcend the norm and still have plenty of St. Patty's Day flair. We hope you'll try one (or all) of these winning recipes that can be deliciously prepared in your outdoor kitchen's smoker.
Smoked Irish Lamb and Potatoes
Never smoked lamb before? Don't let it intimidate you! This Smoked Irish Lamb recipe with potatoes only take 20 minutes to prep! The other hours, your smoker is doing the work. Easy as pie! Or should we say... Easy as lamb? (Sorry, not sorry)
Smoked Corned Beef Brisket
If you're a sucker for the traditional, this Smoked Corned Beef Brisket recipe comes pretty close. Make sure you have rye bread and mustard on hand, too, so you can slice brisket and build a reuben. Mmmm!
Sausage and Stout Pizza with Guinness Sausage and Glaze
This Sausage and Stout Pizza recipe is actually for a pizza oven, not a smoker, but we simply could not leave it out. Everyone loves pizza, and if you also enjoy Guinness, then you really must try this! There's even Guinness in the crust!
Whiskey Smoked Salmon
If you're not cooking with Guinness, then whiskey is an equally tasty ingredient worth adding. This Whiskey Smoked Salmon recipe, which is only appropriate for a holiday like St. Patty's Day, has a strong whiskey flavor.
Note from the author of this recipe: "Do not tell your whiskey loving partner just how much whiskey is used in this recipe. Mine looked at me as if I had gone crazy. But trust me, it is so worth it!"
Let's get smoking!
Smokers can really take your outdoor cooking to the next level. If you're in the market for a new smoker, we have a great selection to choose from. On the other hand, if you need to talk to one of our professional outdoor kitchen designers about installing a smoker you already have, we can help with that, too Contact us today!