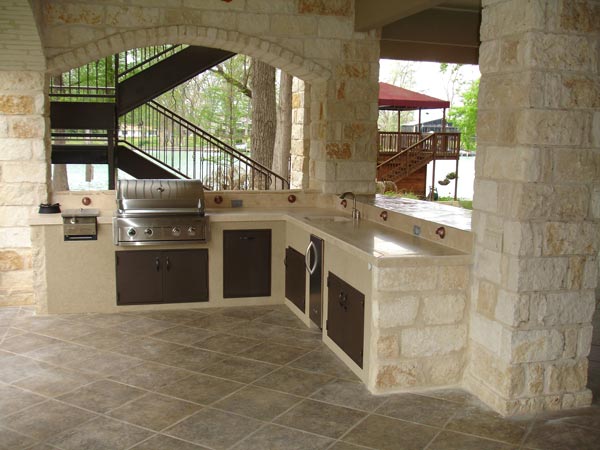 The grill is the heart and soul of an outdoor kitchen; it's where we use one of Earth's most basic elements — fire — to transform simple ingredients into delicious meals. Because of how important the grill is, choosing the the right grill is not a decision that should be taken lightly.
To help you make such an important decision, we've laid out some "dos" and "don'ts" to keep in mind as you're trying to make this special selection for your backyard:
Things to Consider When Shopping for a Grill
Set a Realistic Budget
Don't start the search for the perfect grill without a firm budget in place.
Do set a budget, and only look at grills within that budget. In fact, you should set a budget and shop for grills that come in under that budget so you still have some breathing room in case you need to set up a gas line, pay for setup and installation, or even just cover shipping.
Work with the Available Space
Don't forget your grill needs to fit into the space you have.
Do filter your search by the dimensions your grill was designed to fit. If you're shopping for an already installed outdoor kitchen you'll have to match the dimensions pretty exactly, but if you're still in the planning phase you probably have a little more leeway.
Cooking Experience
Don't jump into a purchase without doing your research.
Do learn the differences between propane, natural gas, charcoal, and electric grills, and decide whether you want cast iron, stainless steal, or ceramic grates. Each of these options come along with their own set of pros and cons, so take your time so you know you're making the right choice for your wants and needs.
Features, Add-Ons, and Options
Don't neglect features you think you can't live without, but also don't overboard.
Do find the unique mix of features and options that'll make your grill truly yours. Nowadays you can get grills with convection ovens, side burners, a rotisserie, and even speakers! So, while you may not need every single feature and attachment available, having a few key ones can be pretty great!
If you were thinking about having a custom outdoor kitchen, pergola, or other project built this Summer, now's your chance because we're offering a $5,000 Unlimited Outdoor Kitchen gift card to one lucky person who signs a contract with us between now and Labor Day (Monday, September 5, 2016). Just click the banner below to read the rules and to enter!
If you enjoyed this article, please check out other posts on our blog and join us on Facebook, Twitter, LinkedIn, Google+, and Pinterest to see how Unlimited Outdoor Kitchen can help you build your outdoor lifestyle.