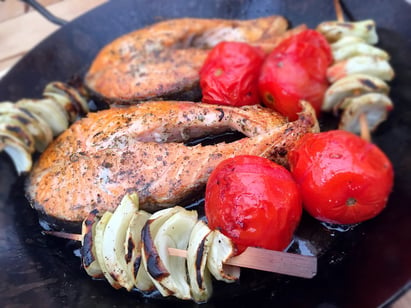 If you've purchased a top-of-the-line grill or designed your own custom outdoor kitchen, we know you want to use any excuse to make the most of it—even in the off season!
While we're pretty certain no one will turn down a thick, juicy burger or perfectly cooked steak any time of the year, you can also cook up some hot, tasty dishes with the help of a cast iron skillet or pot.
Benefits of cast iron
People have been using cast iron cookware for thousands of years—and it's no wonder. Iron cookware can sustain temperatures high enough to sear meats—great for when you're making steak—and it heats consistently, even when suspended over a sputtering hearth fire (which is how it was traditionally used).
This is what makes it ideal for a grill—it can take the heat from the flame and distribute it evenly across the surface of the pan, so you can get predictable results even when baking.
Cast iron cookware also adds a trace amount of iron to your food. So if you're cooking for someone who needs additional iron in their diet—such as people with anemia, pregnant women, or new mothers—it's an added bonus.
How to cook with cast iron on your grill
Because of cast iron's high heat tolerance, you can place the skillet or pot directly on the grill grates. You don't have to worry about damaging it on the grill like you would for other cookware. You may want to invest in a temperature gauge for your grill, however, so that you can keep better tabs how hot things are getting in there.
If you're planning on searing meat, use direct flame and use a little oil (carefully—the pan may be very hot!) and let it smoke a little before placing down the protein. For soups and gumbos, you'll want to use indirect heat and simply monitor it until you know it's cooked through.
For baked goods, you'll probably need a gas grill with more precise temperature settings to make sure everything cooks properly (unless it's something simple like a no-fuss cornbread). Use indirect heat and keep the lid down during the cooking times.
Just be aware that handles of your cast iron cookware will be VERY hot, so be sure to use oven mitts and don't set the pan directly on your table or custom countertop!
Ready to try it? Here are a few recipes to get started
Some of these recipes are designed for the oven, but in many cases the grill will work just as well (if not better):
Want more meal ideas? Check out our blog's extensive collection of cooking tips. And if you're looking to upgrade your grill, browse the great selection offered by Unlimited Outdoor Kitchen!