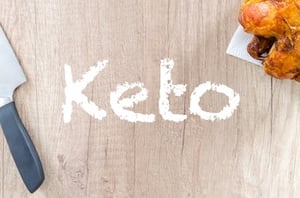 Too many diets take the fun and flavor out of food. If not done right, the ketogenic diet is one of them. If you're not familiar with the ketogenic diet (or keto), the basic concept is to eat foods that are...
high in fat
low in carbohydrates and
moderate in protein
With more fat in your system and fewer carbs, your body doesn't burn carbs for energy like it typically would. Instead, it takes the fat, turns it into ketones and then burns the ketones (fat) for energy.
Now that we're clear on the science behind keto, let's get clear on some tasty ways to enjoy it in your outdoor kitchen!
You can find the complete recipe for this delicious keto meal here, but you should start by picking up these ingredients from the grocery store...
The roll-ups
1 pound sirloin tip steak, thinly sliced
1 bunch of asparagus, washed and trimmed
Fajitas seasoning mix (recipe for homemade mix in next section)
1/2 tablespoon olive oil
1 lemon, juiced
Chopped fresh cilantro, for garnish
Lemon slices, for garnish
Homemade Fajitas seasoning mix
1 teaspoon chili powder
1 teaspoon paprika
1 teaspoon garlic powder, or minced garlic
1 teaspoon cumin
1/2 teaspoon Italian spice mix
1 teaspoon sea salt
1/4 teaspoon fresh ground pepper
Yogurt sauce
1 serving size of Greek yogurt (about 5 oz.)
2 tablespoons olive oil
1 tablespoon lemon juice
Chopped cilantro, to taste
Salt and fresh cracked pepper, to taste
Make sure to also follow these tips for grilling the perfect steak.
Make sure you have the below ingredients on hand before firing up the grill, and then follow these directions to prepare citrus chicken kebabs in your outdoor kitchen.
Citrus chicken
2 pounds boneless skinless chicken thighs (ButcherBox has great ones!), cut into 1-inch cubes
1/2 cup fresh lime juice (about 4 limes)
2 tablespoons extra-virgin olive oil
1 teaspoon fine sea salt
1/4 teaspoon ground black pepper
fresh chopped cilantro leaves, for garnish
fresh lime, for garnish
Cilantro lime sauce
1/2 cup full-fat coconut milk
1/4 cup fresh lime juice (about 2 limes)
2 cloves garlic
1/4 cup fresh cilantro leaves
1/4 teaspoon fine sea salt
Got a thing for kebabs? Try some more of our favorite kebab recipes on your grill.
You've never tasted tenderloin so... well, tender! Follow this recipe and throw it on the grill with these flavorful ingredients:
1/2 cup extra-virgin olive oil
2/3 cup cilantro leaves, lightly packed then chopped
Zest from 1 large orange
Juice from 2 large oranges (about 1/2 cup)
Juice from 4 limes (about 1/3 cup)
3 tablespoons chopped fresh mint leaves
6 cloves garlic, minced
1 teaspoon dried oregano (or 1 tablespoon fresh)
1 1/2 teaspoons ground cumin
1 teaspoon Kosher salt
1 teaspoon fresh ground black pepper
2 1-pound pork tenderloins (silver skin removed)
For additional marinade ideas, check out these marinades for steak!
Grilling for Any Diet
Regardless of your diet, grilled food just tastes better. And it tastes even better when you're eating it outside. So, whether you have a grill without an outdoor kitchen or an outdoor kitchen without a grill, we can help! Unlimited Outdoor Kitchen customizes your outdoor living space from the grill to the fire pit to the countertops! Give us a call at (888) 747-4554 and speak to a kitchen designer today!