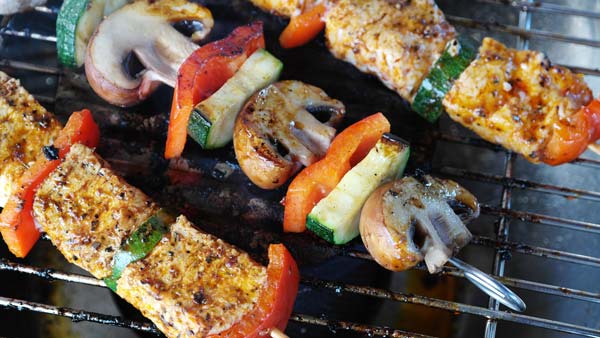 We have talked quite a bit about choosing cuts of meat, preparing perfect steaks, and grilling hamburgers that are so good they'll change your life, but we know those articles don't really speak to those of you who don't eat meat.
This week we're covering delicious vegetarian recipes that are practically begging to be prepared on your new grill and enjoyed in your outdoor kitchen. We're sure you've had your fair share of tofu and black bean burgers, so here are 4 new vegetarian recipes to help you shake things up:
Vegetarian Recipes to Try in Your Outdoor Kitchen
Grilled Corn, Mushroom, and Roasted Poblano Tacos with Chipotle Crema
Ingredients
5 large ears of sweet corn, grilled and cut off the cob
2 large poblano peppers
2 c sliced cremini mushrooms
1/2 tsp olive oil
1 1/2 tbsp unsalted butter
1/2 tsp salt
1/2 tsp pepper
1 large avocado, thinly sliced
4 oz monterey jack cheese, freshly grated
8-10 small corn tortillas, warmed
Instructions
First you'll need to roast your peppers. Remove the core and seeds and slice the peppers into pieces, then lay the slices skin-side-up on a baking sheet. Broil the pepper slices until the skin is black and charred (it should be about 10 minutes, but check on them every 2 minutes just to be safe). Once they're properly charred, store them in a sealed plastic back for 20-30 minutes so they can "steam."
Now, fire up your grill to medium-low and heat a large skillet where you'll combine butter and olive oil. Add your mushrooms into the pan and roll them around until they're coated in the butter and olive oil, then cover your skillet and let them cook for about 10-15 minutes being sure you stir every few minutes. Once they're done, remove them from the grill and season with salt and pepper to taste. While those are cooking, you can whip up your chipotle crema:
Chipotle Crema Ingredients
2 tbsp sour cream
3/4 c half and half
1 tbsp adobo sauce (from a can of chipotles in adobo)
Juice of half a lime
1/8 tsp salt
Chipotle Crema Instructions
Once you've got all your ingredients measured out, combine them in a food processor until smooth. You can even prepare this the night before if you'd like to make things a little easier on yourself before dinner.
Once your peppers are charred and steamed and your mushrooms have been grilled, add your corn, mushrooms, peppers, avocado, and cheese to your tortillas, top with your chipotle crema and enjoy!!!
---
Grilled Herb Garden Pizza
Ingredients
Instructions
Once your pizza dough is ready, heat your grill to medium-high and combine your garlic and olive oil.
Roll out your pizza dough to your desired thickness; be sure to lightly flour your surface, dough, and rolling pin to keep the dough from sticking to anything. Brush the dough with the garlic oil mixture and transfer it to the grill. Grill the dough for 4-5 minutes per side or until you start to see dark grill marks. Once the first side has the grill lines, flip it and top the finished side with your desired toppings, then close the grill lid and let your cheese melt and dough cook the rest of the way through.
---
Grilled Beet and Hummus Stuffed Pita
Ingredients
4-5 large golden beets
1 tbsp olive oil
1/8 tsp salt
1/2 c hummus
Lettuce
2 pita (with pockets)
Instructions
Light the grill and wash and slice your beets while you wait for it to heat up. Toss your beet slices in the olive oil and salt (add any other herbs or seasoning you'd like), and grill them on each side for 3-5 minutes.
While the beets are cooking, slice your pita pockets in half and fill each half with 1-2 tbsp hummus and lettuce, then add the beets once they're ready.
---
Grilled Tempeh Skewers
Ingredients
5 tsp rice vinegar, divided
1 tbsp lower-sodium soy sauce
2 tsp dark sesame oil
2 tsp sambal oelek (ground fresh chile paste)
1/4 tsp black pepper
1 (8 oz) package organic soy tempeh, cut into 16 pieces
2 tbsp honey
2 tbsp fresh lime juice
1 tbsp canola oil
1/2 tsp kosher salt
1/8 tsp ground red pepper
16 cherry tomatoes
16 button mushrooms
1 large yellow bell pepper, cut into 16 pieces
2 tbsp diagonally sliced green onions
Instructions
Combine 1 tsp vinegar with your soy sauce, dark sesame oil, sambal oelek, and black pepper in a plastic sandwich bag and add the tempeh so it can marinate. Put the bag in the refrigerator and let the tempeh marinate for at least 2 hours—just make sure to flip the tempeh occasionally so that it can season evenly.
In a small saucepan, combine the remaining 2 tsp with your vinegar, honey, lime juice, canola oil, salt, and red pepper. Bring this mixture to a boil over medium-high heat, letting it boil for about 2 minutes or until thick.
Preheat grill to high and start threading your tempeh, tomatoes, mushrooms, and peppers onto your skewers, then place the skewers on the grill. Cook each skewer for about 10 minutes or until golden brown. Turn the skewers every 5 minutes and baste with the honey mixture from the saucepan. Once the skewers are done, remove them from the grill, drizzle any remaining honey mixture over them, and sprinkle them with the green onions.
If your mouth is watering but you don't think your grill can stand up to the challenge of creating all of these savory masterpieces, click the banner below to get your free estimate on a custom outdoor kitchen! If you aren't quite ready to commit, feel free to give us a call at (888) 747-4554 or contact us online — we'd love to answer any lingering questions you may have!
If you enjoyed this article, please check out other posts on our blog and join us on Facebook, Twitter, LinkedIn, Google+, and Pinterest to see how Unlimited Outdoor Kitchen can help you build your outdoor lifestyle.