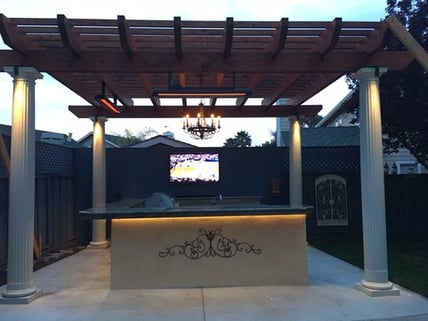 Dreaming of the ultimate outdoor living room but aren't sure where to start? Any major home improvement project can seem like a daunting task to begin with, so it helps to break it down into steps.
Here are our recommended steps to create your ideal outdoor living room:
1. Determine your goals
First, ask yourself: what makes the idea of an outdoor living room so attractive to you? Is it because you want to spend more time with family? Is it so you and your spouse can spend alone time together? Is it because you want to have a quiet place to meditate and enjoy nature?
The reasons why will shape a lot of your decisions. You don't want to fall into the trap of designing based on what's trendy or what you think you ought to have. Once it's all done you want to be able to enjoy it in the way that will best help you relax.
2. Set your budget
Building an outdoor living room is something that should improve your quality of life and create more enjoyment. The last thing you want it to do is create financial stress or swamp you with debt! Determine ahead of time how much you're able and willing to spend. How much have you saved up? If you have to finance any purchases, how large of a payment will you be willing to make per month, and for how long?
Keep in mind that the whole process is probably new to you, so there may be expenses you're not aware of. (For example, the pergola itself may be one price, but that may not include the labor to install it.)
In order to stay in budget, you'll want to choose contractors who give accurate quotes that include every part of the job, so you can be certain ahead of time you'll stay in budget (more on that later).
3. Assess your yard
Next, determine the physical limitations and opportunities your backyard offers. Do you have a great view? You'll want to maximize that by installing features that draw attention to it, not block it. Do you have a southern exposure that might make sunny days too hot to enjoy? You'll want to consider a pergola or another feature that will provide some shade.
You also need to determine how much space you have to work with. Do you want to convert your entire yard into an outdoor living area, or do you want to keep some grassy areas for the kids or grandkids to play in? Do you want to set aside some space for a garden?
Don't worry about getting too technical at this stage, since a professional designer will be able to do the exact measurements and figure out specifics. You'll just want to have a general idea of your vision.
4. Brainstorm and research
At this point, you'll have an idea of what your goals are, how much you're willing to spend, and how much space you have to work with. Now comes the fun part: figuring out which features will match your goals and bring you the most enjoyment.
Go back to your reasons why you want to build an outdoor living room. If it's to entertain friends, maybe lots of seating areas and a fire table for enjoying drinks would serve you well. If it's to spend time with your honey, maybe a romantic fireplace to snuggle by is what you really need. Want to make the area the ultimate hangout spot for kids and grandkids? Consider installing a television set for movie nights or big game days.
Then do some poking around online. About how much will these features cost? Are there other fun ideas you hadn't considered?
Of course, you want to keep these plans flexible (the sample prices you see online may not always be accurate for your area, for example, or the professional designer you work with may be able to suggest alternatives that work better for your goals). But going into the process with a good idea of what you want will give you better decision-making power.
5. Find a reliable company to work with
If your goal for your outdoor living room involves paving, construction and/or installation of appliances, you'll probably need to work with a contractor or building company.
Your investment and dream is important to you, so you want to find someone who takes it as seriously as you do. Research local companies. Check out their websites. Compare the level of work they've already completed. You'll want to find someone who offers:
A solid reputation
Experience in outdoor living areas specifically
Honesty
Accurate, all-inclusive quotes (this will help you stay in budget—you don't want to be surprised by hidden costs)
High-quality construction (after all, you want your outdoor living room to withstand the elements for years to come)
Take advantage of services such as free consultations and free estimates. This will not only give you an idea of costs, but will allow you to meet the company's employees in person and to gauge how well you could work together.
6. Work with your designer
Once you select a company to work with, chances are they'll have their own set of steps to follow, from first design sketches to installation. Make sure you know at the beginning what to expect at each step, so there are no surprises.
When working through design plans, don't be afraid to speak up on things that are important to you—your outdoor living room should reflect what you will enjoy, not just a designer's vision. But also be sure to listen to their input. If you've selected a good company to work with, these people are experts and offer a lot of valuable insights that can improve the final result.
7. Accessorize
Once everything is designed, built, and installed, then it's time to add the finishing touches! Now's the time to pick out comfortable outdoor chairs, a rug, or maybe even some whimsical decor on Etsy—whatever makes the space feel most like home to you. You'll want to be sure to leave a little room in your budget for this step.
8. Enjoy your outdoor lifestyle!
You've done the work, and now it's time to reap the rewards! Host a party, set up some outdoor games for a day of fun, or just sit outside with a cup of coffee or wine and enjoy the view—after all, you've earned it!
If you live in the San Francisco Bay area and would like to get a free estimate from Unlimited Outdoor Kitchens, give us a call at (888) 7-GRILL-IT or click the banner below. We'd love to be part of the process of building your ultimate outdoor living room!