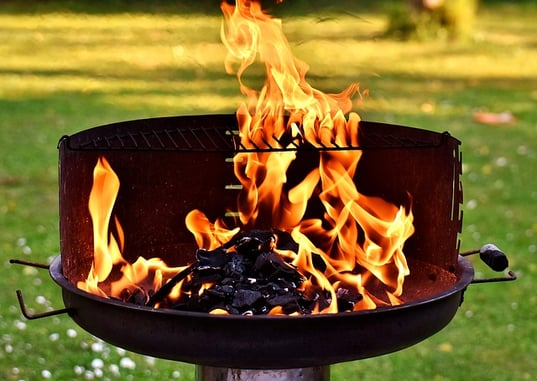 Independence Day cookouts are a time-honored American tradition and often the high point of the summer. But unfortunately for some people, another part of the holiday tradition is burnt-to-a-crisp burgers.
Don't let that be you this summer—follow these tips for keeping your burgers juicy and evenly cooked:
Don't use lighter fluid to fan the flames
You know how restaurants make a big deal about meats that are hickory-smoked or applewood smoked? That's because the fuel for the fire flavors the meat. By the same token, "gasoline-smoked" burgers really aren't that appetizing—so use some restraint with that lighter fluid!
If you do use lighter fluid with your charcoal grill, soak the charcoal before you light it, and then that's it—don't add any more once the fire's started. Not only do you risk having a flare-up that will incinerate the outside of your burgers, but the finished product will have a chemically taste, and who wants that?
Don't leave burgers unattended
Burgers may not need constant flipping (though Serious Eats makes a compelling argument for flipping them four times a minute), but they do need constant attention. You'll want to watch for flare-ups (see the point below), plus keep an eye on how quickly the meat on the bottom is browning. If the grill is a bit hotter than you estimated, you can do something about and avoid charring if you're watching.
Besides, leaving a hot grill unattended is a major fire safety hazard, especially if you've got kids running around.
Use the two-zone method
If you have a charcoal grill, pile the charcoal on just one side so that you end up with two temperature zones. This will allow you to keep the grates hot enough to sear the outside of the burgers, but gives you a cooler place of retreat in case things get too hot. It's also a great place to toast burger buns!
If your gas grill has a warming rack, you can use this in a similar way.
Cover the grill in case of flare-ups
As fat drips out of the burgers into the fire, you may get mild flare-ups. If one gets especially large, don't panic—simply cover the grill for a minute or so. This will cut off the oxygen flow to the flame and tame it.
Of course, don't purposely press the fat out of your burgers with the spatula—not only does it increase the likelihood of a flare-up, but it's essentially just throwing the juicy flavor away!
Want more burger tips?
For more grilling tips, check out our blog post on making and grilling the perfect hamburger. And if you're in the market for a more reliable grill, check out our line of premium gas and charcoal grills.