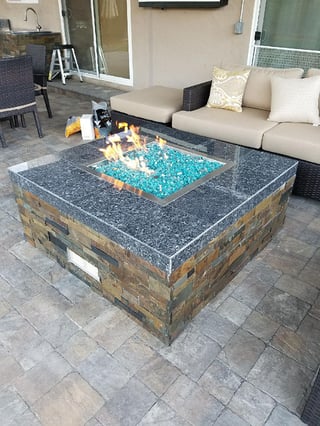 In a previous post, we covered cleaning and maintenance for a backyard fire pit—but much of the emphasis was on cleaning up the ash and residue left from wood fires.
If you have a fire pit that's fueled by natural gas or propane, maintenance is already a lot easier since you don't have to deal with the same amount of clean-up. There are still a few key things you can do to keep your fire pit (or fire table) in great working order for years to come.
Here are a few best practices to make into a habit:
Never burn anything besides gas
Don't let children throw paper, leaves, or other foreign objects into the flames. These could quickly flare up and escape into your yard or toward your house. Also, don't add anything to your fire pit (such as fire glass) unless it is recommended by your contractor or the manufacturer.
Cooking in your gas fire place is not likely a safe activity, unless the manufacturer specified that your unit is designed to do such.
Never, ever use lighting fluid or another accelerant with a gas flame, or things could get out of control instantaneously.
Keep it covered when not in use
A fire pit cover not only keeps out leaves, pollen, and insects, but it can also help shield it from the effects of rain or extreme temperatures. Get into the habit of covering your fire pit regularly (once it's cooled down!) and be especially mindful about protecting it when cold temperatures come.
Check for debris before lighting
You don't want leaves or other debris to get trapped inside your burners when the fire ignites. Keep in mind that certain types of insects sometimes build nests inside of narrow pipes and could block the gas flow. (Again, this is why a cover is important!) Always check the burners carefully before igniting.
Always check your ventilation and exhaust systems
As with the burners, you'll want to inspect these systems before igniting your fire pit. Your contractor (or at least your owner's manual) should have shown you exactly how your model should work. If you notice something not operating correctly with either system, shut your unit off and have a professional check it out.
Clean regularly
Too keep your firepit looking great, wipe the whole unit down if you notice a buildup of pollen or dirt. For most metal fire pits, a simple solution of soap and water will do the trick, with time for it to air dry. If your fire pit is cast iron, concrete, or stone, check with your installer for their recommended cleaning method.
Of course, you want to do all cleaning when the fire pit is cool! Right after you shut it off is not a good time to rinse it down, or the temperature shift could damage the burners or crack the finish.
Be proactive about rust and cracking
Don't let rust get the upper hand! Remove rust spots with sandpaper or even a wire brush to keep it from spreading. If your gas fire pit was installed by Unlimited Outdoor Kitchen, then it has been treated with a rust-resistant coating such as Red Oxide, so this should be less of a problem.
If you have a stone or concrete fire pit, take note of any cracks that may appear. You may want to seal them to prevent further damage. If the crack is located close to the pipes at all, get a professional to check it for safety.
Monitor your gas line
Shut off your gas supply when your fire pit is not in use, and regularly check your gas lines for leaks. (One simple test is to apply a soap-and-water solution to the line, turn the gas on, and watch for bubbles.) Of course, if you ever notice a sulfur smell, shut the gas line off immediately and call in a professional.
You'll also want to have a professional (such as a certified plumber) check your line annually to ensure there are no hidden problems.
More about fire pits
If you own a fire pit (or are dreaming about one!), check out our other articles: