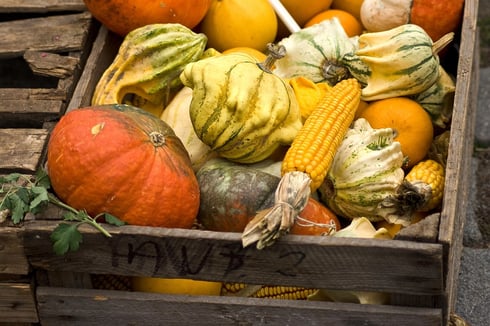 Autumn is here, with its many occasions to celebrate! Whether you're planning a Halloween get-together, a football tailgate, or even a "Friendsgiving" feast, make the most of the weather and take the fun to your outdoor living area.
Here are some ideas for perfect fall fun:
Decorate with nature's bounty
Autumn is when nature puts out her most beautiful show of colors. When decorating your patio steps, tables, or outdoor kitchen counter, take cues from Mother Nature and incorporate natural elements as possible. (As an added bonus, it's an easy and nearly fool-proof way to add seasonal cheer!) Possibilities include:
Corn stalks
Apples (These can serve as snacks as well!)
Decorative gourds and squash
Cinnamon sticks, perhaps tied with ribbon
Coffee beans and cranberries, which make for a great jar filler around candles
Leaves and acorns (Don't have a lot of deciduous trees? Buy preserved or silk versions at your local craft store.)
And don't let us forget to mention the staple of fall décor: pumpkins! Carving pumpkins into Jack-o-Lanterns for Halloween can be a fun activity for kids and adults. Just keep in mind that once a pumpkin's cut, it lasts only a couple of days before it starts to go bad.
If you'd prefer to keep your pumpkins lasting longer (plus skip the mess), get creative with paint instead. You can also find specialty stickers or decals designed for pumpkins, and even stick-on rhinestones for a glamorous look.
Make spiced cider
For a sweet taste of the season, make your own warm and spicy cider. Fill a Dutch oven or cast-iron pot with a gallon or two of apple cider from your local store and heat it over a grate over your fire pit, on a side burner, or even on your grill, if you have the proper setup. At the beginning of the process, add fall spices such as:
Cinnamon
Nutmeg
Cloves
Allspice
Cardamom
Star anise
You can either drop in a mulling sachet that's filled with ground spices, or opt for whole spices that you can easily remove before serving. (Cinnamon sticks, nutmeg seeds, cloves, and star anise are generally large enough for this. They not only look cool floating in the cider, but they're potent enough that you can dry them and reuse them for another party this season.)
Fire up that grill
Of course, no one's going to object to savory barbecue, seasoned ribs, or perfectly juicy hamburgers any time of the year. But if you'd like to pay homage to the season with your grilling, try one of these autumn-themed recipes:
Planning a feast? You can even cook an entire turkey in your smoker!
Gather everyone around the fire
Nothing says autumn like crackle of a fire and the smell of wood smoke. Get the fire blazing in your outdoor fireplace, fire pit, or even fire table, and everyone will congregate there. You can't beat the draw of a fire, especially as the weather gets a little cooler!
Loving the idea of a fall get-together, but wish you had a better grill, fire pit, or kitchen setup? Give us a call and we'll help you build the backyard of your dreams!