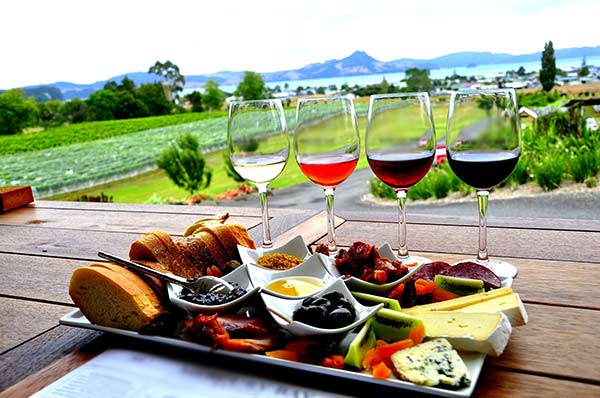 Charcuteries are all the fun of cheese plates, but with the added flair of various meats and other delectable items! These exotic presentations make them the perfect appetizer, but they can also be filling enough to stand on their own... if you know what you're doing. We want you to be able to create the perfect charcuterie board every time as effortlessly as possible, so here are our tips for savory success:
Crafting Unforgettable Charcuterie
Make sure you have enough to go around: If serving the charcuterie as an appetizer, plan for about 2 ounces of meat per person. If you're having drinks with friends and the charcuterie will be the main attraction, plan on 5 ounces of meat per person.
You already know it's all about contrast and texture: Cover your bases with a hard salami, a soft cheese, warm bread, a spicy sausage, sweet fruits or jams, salty nuts, tangy olives, and sour pickles.
Variety is the "slice" of life: When slicing your meats, remember that salami should be sliced cold but served at room temperature, ham and prosciutto should be sliced as thin as possible, and sausage can be served fairly thick.
Say cheese: We suggest you pick and stick with a region (France, Italy, etc.). Once you've made your choice, get a wide variety of cheeses: a creamy option, a hard cheese, something neutral, and a strong choice. Let's say you chose Italy; in that case you'd want a line up like mascarpone, parmesan, mozzerella, and gorgonzola.
Bread is basically an edible plate: Prepare a nice basket filled with slices of different breads and crackers to go along with your carefully selected meats and cheeses.
Now, for the finishing touches: Drizzle olive oil and grind fresh black pepper over your board. These little touches add to the existing flavors and are another opportunity to add texture. If you'd like to add a coarse salt do so sparingly; chances are several of your meats will already bring plenty of salt to the table.
If you're looking for a little something extra: Make a salad! Salad will easily compliment your charcuterie board without taking away from the "WOW" factor you put so much work into creating.
Do you know what will dazzle your guests even more than a charming charcuterie? Entertaining them in your brand new, custom outdoor kitchen! If you're ready to use your backyard to its full potential but still don't know how, give us a call at (888) 747-4554 or contact us online. Or, if you already know exactly what you want, request your free estimate and get started today! You're going to love working with Unlimited Outdoor Kitchen; click the banner below to see what past clients have to say about their experiences with us!