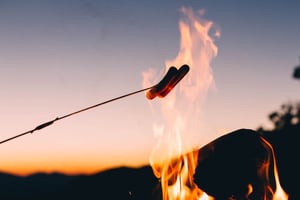 Finally, fall is here and campfire weather is on the horizon — even if it's not quite here yet.
When you decide to have your next campfire in your outdoor living space, we want you to knock it out of the park. Hot dogs and s'mores are fun, but there are so many more creative foods to cook over the fire.
From appetizers to desserts, the complete outdoor feast described in this article will leave your friends and family both speechless and stuffed. Try these recipes and see for yourself!
Over-the-Fire Appetizers
It's hard to say whether it's more fun to munch on appetizers before a meal or to watch your famished friends and family devour them. in seconds. Either one is pretty enjoyable when these two apps are being served:
Honey Balsamic Glazed Shrimp Skewers
Jalapeno Poppers
Find both recipes on the Thrifty Outdoorsman blog.
An Epic Entree
Instead of roasting a sausage on a stick like you usually do, take things to the next level with this Garlic Sausage and Asparagus recipe. Cooked with garlic, loaded with purple onion and topped with lemon, this entree is packed with flavor — and it couldn't be easier. Just combine all of the ingredients in a foil packet and toss it on the coals for about 20 minutes. When you open it up, you'll find a colorful entree that tastes even better than it looks!
Roasted, Toasted Sides
As good as the entree is, you'll still want a few sides to turn this campfire cookout into an all-out feast. Here are some delicious extras that pair well with the sausage dish:
Sizzling Desserts
If you have as much difficulty choosing a dessert as we do, you'll probably just end up making two. That's why we're suggesting two of our favorites:
Just Grill It
For those who prefer grilling over roasting, all of these recipes will work just fine on a grill. Don't have a grill? Click on the banner below to find one that will complete your ideal outdoor kitchen.