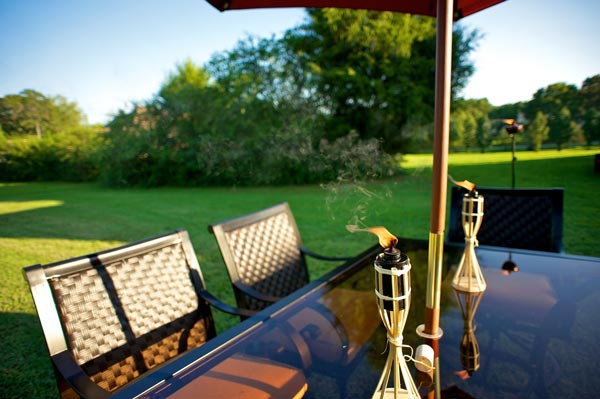 Having an outdoor kitchen doesn't make too much sense if you're just going to cook your food outside then bring everything inside once it's done. It makes way more sense to host your whole party outside, so as you start planning your dream outdoor oasis, don't forget to include spacious outdoor dining areas with comfortable seating for your guests.
We've compiled some helpful tips for you to keep in mind as you're planning your outdoor eating spaces so that you and your guests can sit back and relax in maximum comfort:
Comfortable Outdoor Seating
First, think about the type of dining area you want: the amount of leg space a person needs varies by the setting they're in. If you're going to have high, bar type seating, you'll need to include a 12 inch counter overhang for knee space. If you're going to have counter-height seating, plan to have a 15 inch counter overhang. If you're going to have normal, table-height seating, an 18 inch counter overhang will provide the perfect amount of leg room (or 19 inches to make it handicapped accessible).
Next, consider the room needed to eat: Now that everyone has enough room under the table, let's talk elbow room. Allow 24 inches of width between each chair and place setting to give each of your guests plenty of table and personal space. Allow 36 inches to make the table handicapped accessible.
Finally, factor in the "traffic" moving around the dining area: You don't want anyone backing their chair into you as you're carrying the food to the table, so be sure to plan ahead for traffic. If your dining area will be in a low traffic area, you'll only need 32 inches of space around the dining area. If your guests will be seated in a moderate traffic area, allow 36 inches of space behind each of the chairs. If your dining area will be in a high traffic area and you wish for no chance of an accident, leave 48 inches of space around the table.
By working with an experienced company—such as ourselves—to build your outdoor lifestyle, you can rest assured that your kitchen and adjoining outdoor spaces will be perfectly planned, built correctly, and will last a lifetime. Check out the links below to learn more about our careful processes from design to delivery (and to dinner):
If you've been dreaming of your own custom outdoor kitchen and you're ready to make that dream a reality, click the banner below to get your free estimate! If you aren't quite ready to commit, feel free to give us a call at (888) 747-4554 or contact us online — we'd love to answer any lingering questions you may have!
If you enjoyed this article, please check out other posts on our blog and join us on Facebook, Twitter, LinkedIn, Google+, and Pinterest to see how Unlimited Outdoor Kitchen can help you build your outdoor lifestyle.