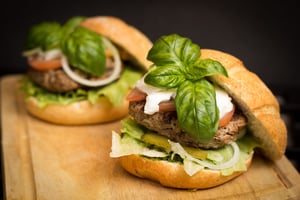 It's no secret that Americans love their hamburgers—especially if it's grilled to perfection outdoors. If you're planning a big Memorial Day celebration, or just want to wow the crowd at your next cookout, try varying up your burger recipe with some of these ideas.
First things first: use high-quality beef (grass-fed often tastes better) and follow these steps to making and grilling the perfect burger.
Burger patty add-ins
A few extras added into quality ground beef can go a long way in enhancing the burger's flavor. Here are a few things you can add in when forming your patties.
Flavor boosters:
Sea salt and pepper (if nothing else, do this!)
French onion soup mix
Chili powder or other spices
Minced garlic, onions, or peppers
Soy sauce
Worcestershire sauce
Texture enhancers:
Bread crumbs or crushed Ritz crackers (add a buttery flavor and subtle texture)
Chopped mushrooms
Mayo, sour cream or plain yogurt
Raw egg (helps bind the patty together; use one egg per pound of beef)
Bold statements:
Bacon crumbles
Blue cheese crumbles
Chopped olives
Grated apples (for a sweet twist)
Shredded cheese of your choice
Small strips of pastrami, pepperoni, or salami
Sun-dried tomatoes (chopped) for a bit of tang
Obviously you don't want to include all of these add-ins! Choose a few that appeal to you most and make for a moist, coherent texture. You can try something new every time.
Now they're ready for the grill!
Pro tip: While the burgers cook, resist the urge to press the juice out of them with your spatula—not only does this increase the risk of flare-ups, it also dries the patties out and sacrifices flavor.
Beyond the basic bun
Skip the typical white-bread hamburger bun and place your piping hot burger on one of these alternatives:
Cheese toast (because hey, why not?)
Grilled slices of sweet potato, eggplant, or zucchini (paleo friendly)
Flatbread
King's Hawaiian hamburger buns
Lettuce wrap
Potato rolls
Pretzel buns
Roasted portabella caps
Two halves of a ripe tomato (seeds removed)
Let's get topping
Now to top off your masterpiece. Choose toppings that complement the add-ins to your patty (if any).
All about that cheese:
Feta, blue cheese or goat cheese (a little goes a long way with these)
Fresh mozzarella slices
Sliced deli-style cheeses, such as Havarti or pepper jack
Soft cheeses such as queso, ricotta, or nacho-style cheese
Pimento spread
Veggies
Apple slices
Avocado slices
Bean sprouts
Cilantro leaves (only if your friends are fans of this divisive herb!)
Fresh basil
Grilled corn
Pickled jalapeños
Pineapple (goes well with a little slice of ham!)
Roasted eggplant or zucchini
Sautéed mushrooms, onions, and/or bell peppers
Beyond the typical condiments:
A mix of mayo, ketchup, and diced pickles
"Comeback sauce" (a combination of mayo, chili sauce, lemon, and spices)
Balsamic glaze
Hot sauce of your choice
Hummus
Maple syrup (great with bacon or apple)
Marinara sauce
Salsa, guacamole, or pico de gallo
Spinach dip
Your favorite steak sauce or barbecue sauce
Memorable extras:
A fried egg
Bacon (of course!)
Crushed potato chips or flavored corn chips
Fried onion straws
Pepperoni, ham, or another flavorful deli meat
Sweet potato fries
Is your mouth watering yet? We hope this list gets your creative juices flowing. And if you'd like to get more ideas for the ultimate cookout, check out the Cooking Tips section of our blog!