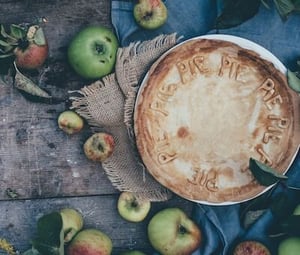 For most of us, when we think of desserts and treats over an open flame, s'mores are likely the first that come to mind. There are good reasons why s'mores are such a popular classic, but what about when you're grilling out instead of sitting around the fire pit? You can still enjoy some incredibly tasty sweets on the grill.
Here are some of our favorites...
Grilled Doughnut and Pear Sundae
What we love most about the Grilled Doughnut and Pear Sundae is that while it makes a refreshing summer dessert, it's also perfect for autumn with sprinkles of cinnamon and a drizzled caramel sauce.
Ingredients (for 8 servings)
2 tablespoons sugar
1/2 teaspoon cinnamon
2 pears, cored and sliced
4 glazed doughnuts, split in half
8 scoops of vanilla ice cream
caramel sauce
Chocolate Hazelnut Banana Pizza
Bananas and hazelnut spread go together as perfectly as macaroni and cheese, If you agree, then this Chocolate Hazelnut Banana Pizza is for you! All you need is three ingredients!
Ingredients (for 8 servings)
1 pound fresh pizza dough
1/2 cup chocolate-hazelnut spread
2 bananas
Bloomin' Grilled Apples
Forget the Bloomin' Onion, and skip straight to dessert! These Bloomin' Grilled Apples are a work of art, and they taste as good as they look.
Ingredients (for 2 servings)
2 small baking apples
4 tablespoons maple cream caramel sauce divided
6 tablespoons chopped pecans divided
2 scoops vanilla ice cream
Grilled Blueberry Lemon Pie
Truly, you can make any flavor of fruit pie on the grill, but this Grilled Blueberry Lemon Pie is one of our favorites.
Ingredients (for 8 servings)
1 pre-made, refrigerated pie crust
1 (21 oz) can blueberry pie filling
1 cup fresh blueberries
the zest of one lemon
3 tablespoons sugar
2 tablespoons vegetable oil
Now it's your turn
Well, what are you waiting for? Fire up that grill and start cooking like the grill master you are! If you're in need of a new grill, we can help with that, too. Click on the banner below to start shopping.