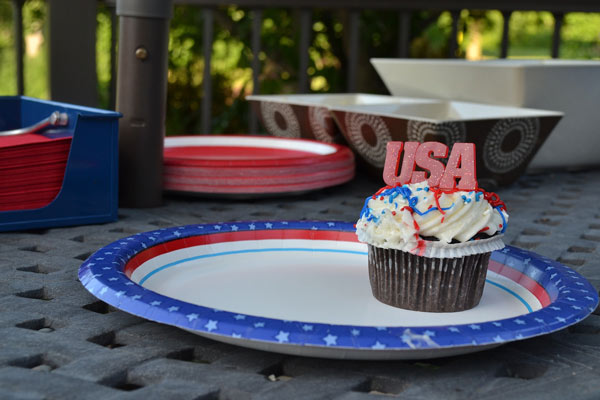 We always love an excuse for a party, and what better reason is there to host a get together than celebrating our country! With 4th of July right around the corner, we thought we'd share with you our favorite party snacks, entrees, and treats!
Our Perfectly Patriotic 4th of July Menu
Appetizer: United Snacks of America
This is probably the easiest appetizer ever! At only three ingredients (okay, maybe five ingredients if you want to keep crackers and salsa nearby), this edible flag made of pepperoni, cheese, and blue corn tortilla chips will fly off the table and into your guest's stomachs faster than a soaring eagle.
View the recipe here.
Drinks: Star Spangled Sangria
If you want to serve your guests something pretty and patriotic, you can't go wrong with this sangria. Complete with star shaped fruit, this is a light, refreshing beverage that your guests will just love! If you'd prefer to serve a non-alcoholic version, just substitute sparking white grape juice in for the white wine/vodka.
View the recipe here.
Dinner: Hamburgers & Hot Dogs
No cute wordplay here, just good ol' American classics! Grilling out is one of America's favorite past times and you can't go wrong when serving your guests their tried and true favorites. Though if you do want to jazz them up for the holiday you're certainly free to add bacon, blue cheese, and white American (you're welcome).
Dessert: Red Velvet, White, and Blue Cupcakes
At parties, sweet treats always seem to take the cake as everyone's favorite part of the meal. Cap off your successful party with these decadent red velvet cupcakes topped with fresh, plump blueberries that are bursting with flavor like little edible fireworks.
View the recipe here.
If you've been dreaming of hosting a Fourth of July party in your own backyard that's been catered by your own custom outdoor kitchen, click the banner below to get your free estimate! If you aren't quite ready to commit, feel free to give us a call at (888) 747-4554 or contact us online — we'd love to answer any lingering questions you may have!
If you enjoyed this article, please check out other posts on our blog and join us on Facebook, Twitter, LinkedIn, Google+, and Pinterest to see how Unlimited Outdoor Kitchen can help you build your outdoor lifestyle.