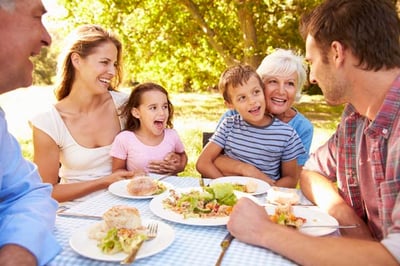 Memorial Day weekend is right around the corner! This gives you the perfect opportunity to show off your new custom outdoor kitchen or fire pit. Throw a party for everyone and create memories that will last a lifetime. You'll get more credibility for being an excellent host, making people want to return to your place for days of fun!

There are many ways to create the best atmosphere for a weekend party, and using your outdoor kitchen, BBQ island, or fire pit can take it to the next level.
Here are a couple of ways to help you host the BEST Memorial Day Party this year for you and your guests.
Practice your hosting etiquette
When it comes to hosting a party, knowing what to do when your guests arrive makes a big difference. You want the party to be fun but you're not sure how to start the evening off. Do you show them around the house first? Where will they sit when they first arrive? These are a couple of things you should consider when hosting a party.
Be sure to prep your home for many guests: turn the thermostat down, open windows, and set out snacks and plates. Guests who may have never been to your house need to feel comfortable at the party, so introducing them to other guests will make them more likely to hang around and have a good time.
As a host with friends from all backgrounds, be sure to create a conversation that others can easily join in, creating a calm and fun atmosphere. Being a good guest means helping everyone out and being accommodating to others for the most memorable party experiences.

Read >> 8 Things Every Host Should Know for Outdoor Entertaining
Create a customized drink menu for all ages
Another good way to get conversations started is to offer a drink menu to your guests. Use your outdoor kitchen and bar area to create the perfect drinks! When creating your drink menu for the party, be sure to include cocktails, mocktails, sparkling waters, and a selection of sodas so that everyone can enjoy the fun, no matter their age.
For the best Memorial Day party, offer drinks with fun patriotic-themed names. And finally, be sure to garnish your drinks with fresh citrus slices or fresh herbs to really elevate your drink concoctions. Using shaped ice can also make your drinks fancier. Get creative with all the drink possibilities!
Pick the best finger foods for guests
Holding an outdoor party means, you guessed it, you need finger foods. Not everyone will want a supreme steak dinner cooked on your outdoor grill (although why wouldn't they?), so you need to provide options. If you're planning to host an all-day get-together, most people won't be able to make it all the way to dinner without a snack or two. Finger foods encourage mingling between guests as they pick out their favorite items to snack on.
To prepare, carry foods that can easily be enjoyed without utensils. Some different foods you can consider serving are sliders, skewers, bruschetta with various toppings, and the staple vegetable platter with various dips. Use your outdoor kitchen to your advantage to keep your finger foods nice and warm too!
Read >> Assemble the Ultimate Holiday Charcuterie Spread in Your Outdoor Kitchen
Get the grill going for a BBQ feast
This one is obvious, as Memorial Day is known to be one of the best holidays to light up your grill. Outdoor kitchens with grills are a great way to impress your guests. They can help keep the conversation going because you don't have to constantly move back and forth between the backyard and your house. With your outdoor kitchen setup, prep a variety of good BBQ options for your guests.
Be sure to prepare for this step in advance by marinating your meats beforehand and creating spice rubs the night before. Having an array of condiments and toppings for your party guests lets everyone personalize their meals to exactly what they want. In case you have any vegetarians as guests, offer up grilled veggies, baked potatoes, or salads so they can feel included.

Read >> The Best Spices for Seasoning Meat
Keep the pool open, add floats
Do you have a pool? It's the perfect time to use it! Before your guests arrive, ensure your pool has been cleaned properly and is safe for public use for the party.
Set up pool games for those who may way to splash around. Set out floats as well for those who would rather lounge. Always keep an eye on guests who may be in or around to pool, to prevent any accidents that could happen.
Gather 'round the campfire
As the sun sets, light up the night with your custom-made fire pit! Campfires are cozy, so be sure to make it the centerpiece of your evening. Make sure you have enough seats to accommodate your guests around the fire. If you happen to have more guests than expected, hold onto some extra seating so everyone can relax in the evening.

Read >> Gourmet Bonfires: Use Your Fire Pit to Its Full Potential
Play a movie outside and get some blankets
To end your party well, section off a part of your backyard for an outdoor movie night. Hang up a sheet or outdoor movie screen projector to play a fun movie for all of your guests to enjoy.

Provide blankets and Adirondack chairs for your guests to get comfortable in. Try your hand at homemade popcorn so they can get the whole movie theater experience. Be sure to end the night thanking your guests for showing up. If they leave with a good impression, they're bound to come back for more backyard fun!
Hosting the best Memorial Day party will allow you to show off all that your backyard has to offer. Your custom outdoor kitchen can help you use your space more effectively and enjoyably.
Let's make your backyard a summertime delight with an outdoor kitchen or fire pit!
We're here to help you design an outdoor paradise you and your guests will love. Want to add an outdoor kitchen, fire pit, or pergola to show off? We can help!
Give us a call at (650) 279-6506 or contact us online. We'll visit your home and conduct a free consultation to get started. We're ready when you are!