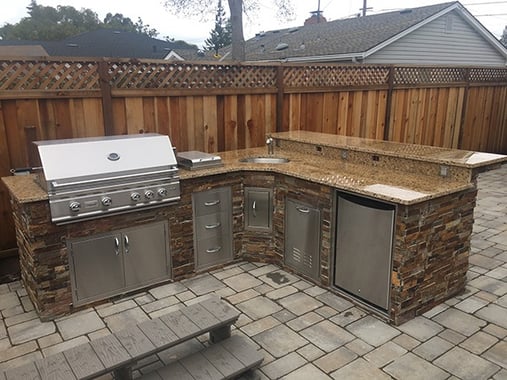 Your outdoor kitchen's countertop is one of the first things people will notice about your new outdoor living setup. But unlike measuring for a new grill or outdoor sink, determining exactly how much counter space you'll need isn't always straightforward.
When you're in the design stages of your outdoor kitchen, there are a few factors to consider when planning the amount of counter space you'll need:
How much prep do I want to do outside?
Ask yourself honestly—do you plan to chop vegetables, prepare marinades, trim fat from meat, and arrange items on plates outside during sunny or chilly days? Or are you more likely to do the prep work inside, and just bring things out and set them down when they're ready to grill?
Your decision may be affected by whether you have a sink or refrigerator installed as part of your outdoor kitchen setup, which can make outdoor preparation more convenient and enticing.
You also want to consider whether you'll be entertaining guests outside regularly with outdoor seating, or bringing the food into your dining room. You're most likely to do your food prep where the social action is happening.
Once you know where you're most likely to do you prep, you can gauge how much priority to place on large countertops.
If you do plan to do serious prep work outside, you'll want at least 3 feet of uninterrupted counter space for comfort. If not, you can get by with much less.
How many "zones" will my kitchen have?
Just as with an indoor kitchen, you'll want to space out the appliances you have so that they're easily accessible and not crowded on top of one another. If all you're looking for is a simple barbecue island with a grill, this task is pretty easy. But if you plan to have other features and appliances such as a refrigerator or a side burner, you'll want to consider spacing them carefully.
One of the best ways to do this is by considering your kitchen layout in terms of "zones:"
The Hot Zone: The heart of your outdoor kitchen is your grill, of course. But it might also include a pizza oven or smoker, a side burner, or a warming drawer.
The Dry Zone: This area is the place where you'll do the bulk of your food preparation. You want an area of clear countertop space that's convenient to the Hot Zone (whether that's next to it or, in the case of a kitchen with two counters, directly across from it.)
The Wet Zone: Your sink and/or beverage chilling tub can be near the Dry Zone, but shouldn't infringe on the space you need to chop, trim, or stir.
The Cold Zone: If you have a mini refrigerator, freezer, or wine chiller, you'll want to keep these away from the Hot Zone. Not only will the extra heat make your cooling appliances work harder, but keeping the fridge away from the grill can reduce accidental burn injuries for guests or children swinging by for a cold beverage.
How much buffer space will I need?
In addition to the three feet of prep space, you'll need to consider the amount of "landing space" for each appliance in your outdoor kitchen to ensure it's a safe distance from walkways and from other appliances. Our recommendations are:
Grill or pizza oven: 24" of counter space on one side and 12" on the other
Sink: 18" on each side
Refrigerator: 15" of counter space above or around the fridge
Side burner/cooktop: 12" on each side
Of course, these "buffer zones" can contribute to the 36" of uninterrupted prep space mentioned earlier. Just be sure to consider the practical side of getting everything to fit, such as whether you want under-the-counter appliances such as a mini refrigerator to be right at your legs where you'll be doing the bulk of your prep work.
If figuring out where everything will fit in your kitchen is starting to feel like a puzzle, you can always get a professional outdoor kitchen designer to help you out! If you're in the San Jose area, contact one of our experienced designers and start making your dream a reality!