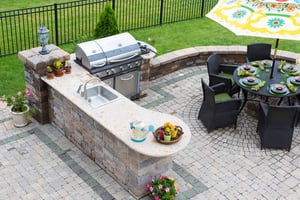 A kitchen without cabinets is like a beach without sand or a bike without pedals. How would you even function without them?
That's why people rarely ask themselves if they should put cabinets in their outdoor kitchen. Instead they're asking, how do I choose cabinets for my outdoor kitchen?
There are a lot of options out there, but since we're outdoor kitchen lifestyle experts (like, it's literally our job), we want to help you sort through the abundance of kitchen cabinet options and choose the best cabinets for your outdoor kitchen.
Cabinets to stay away from
To some it's obvious; to others, it's not. Wood is extremely flammable and should not be used to build outdoor kitchens. For the same reason, we do not recommend building your kitchen's cabinets out of wood either.
There may be daredevils among us who are comfortable with the idea installing a permanent grill, smoker or pizza oven into a wooden structure, but highly discourage it. There's another more durable material option than wood that is equally attractive.
Stainless steel cabinets
Stainless steel is not just an excellent material for outdoor kitchen cabinets; it's arguably a superior option. Here's why:
Durable. You'd be hard-pressed to find another material that's as sturdy and long-lasting.
Customization. With numerous powder coat finish options, you can customized the look of your stainless steel cabinets, even to the point of choosing a wood grain coating.
Versatility. Tired of the powder coat you chose three years ago? Apply a new coat to get a different look without investing in new cabinets.
Easy cleaning. As long as you wipe down your stainless steel cabinets after each use, they're easy to clean and keep clean. Be sure to use cleaners specifically designed for stainless steel, though, in order to protect against corrosion, a common problem for outdoor kitchens on the coast.
Kitchen cabinet features and capabilities
Perhaps the most important part of your kitchen cabinet the inside. Think about what you plan to put in your cabinets, and you'll have a much easier time deciding how to design the interior. Here are some options:
Shelves. Ideal for smaller items like food, shelving allows you to optimize the space you have and stay organized.
Drawers. Need somewhere to put your grilling utensils? Drawers are ideal. They're also a great way to keep items separate. You can dedicate one drawer to utensils, another drawer to spices and another to linens.
Pullout Trashcan. Keep garbage out of sight by keeping your trashcan in a pullout drawer. It's genius and convenient!
Sealed or Water Resistant. In an outdoor kitchen, it's always a good idea to get kitchen cabinets that are sealed and water resistant. You don't want your leftover hamburger buns to get soggy from being in your outdoor kitchen cabinets.
Need more kitchen design ideas?
We're full of outdoor kitchen design ideas and advice. Contact our team today to learn more! You can leave us a message online, or give us a call at (888) 747-4554. We can't wait to start working on your dream kitchen!