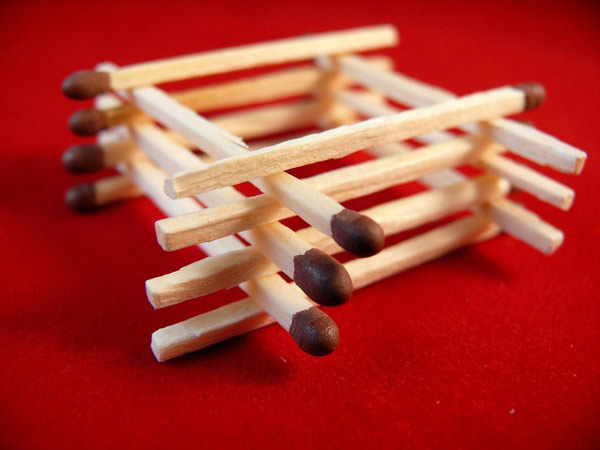 You probably already know that we pride ourselves on welding the body of your kitchen together so that it can handle more weight, compression, tension, and even seismic activity from earthquakes. There's another reason, however, that we choose to build our kitchens with steel frames.
Wood-framed outdoor kitchens are ticking time bombs that are dangerous and risky investments, and we cannot bring ourselves to build such inferior structures. Why? Well, we're glad you asked:
Maximizing Outdoor Kitchen Safety
Your grill is the hub of your outdoor kitchen, but the end it is little more than an open flame. With a wooden frame, all the moisture would be slowly removed by contact with the heat, eventually leaving the flash point so low that it's only a matter of time before your prized outdoor kitchen either smolders away... or bursts into a dangerous, fiery explosion.
Avoiding such a disaster starts in the planning stage. You can eliminate any risk of burns, warps, and full-out fires by simply opting for non-combustible materials (like steel), maximizing ventilation, and insulating your grill. You'll also want to carefully consider the placement of your outdoor kitchen, being sure to leave plenty of space between the back of your grill and the outer walls of your home.
With the growing popularity of outdoor kitchens, the market for aesthetically pleasing, non-combustible materials has greatly expanded. You can now have a steel framed kitchen with beautiful stone, stucco, and brick façades paired with marine grade plastic, epoxy resin, and PVC cabinets that are non-flamible, beautiful, and can withstand outdoor conditions for years to come.
If you're thinking about having a custom outdoor kitchen, pergola, or other project built, spend the extra few dollars for a steel frame and choose a contractor that values your safety. We'd like to be that contractor for you! Give our experts a call at 1-888-7-GRILL-IT for your free estimate.
If you enjoyed this article, please check out other posts on our blog and join us on Facebook,Twitter,LinkedIn, Google+, and Pinterest to see how Unlimited Outdoor Kitchen can help you build your outdoor lifestyle.