Once you have your dream outdoor kitchen designed and built in your backyard, and have perfected your outdoor cooking skills, it's time to get your family and friends in on the action.
One of the first logistical issues you'll face, after figuring out the menu, is to determine where everyone will sit. Some outdoor kitchen owners like to cook outside and just bring the food in to the dining room—but we're of the opinion that everyone will want to enjoy San Jose's beautiful weather as they eat.
Here are some outdoor seating options for your backyard kitchen.
Keep it simple and portable
If your outdoor entertaining consists mostly of casual cookouts, you may be able to get away with a few lightweight lawn chairs. These work best for meals such as hamburgers, kebabs, and other finger foods that won't require guests to balance plates on their laps.
This kind of seating is a great solution for small kitchen setups where space is at a premium. The ability to stack or fold chairs and stash them in a corner or shed can make keeping things orderly much easier.
Go rustic with a picnic table
For a simple solution, a sturdy picnic table with benches will do just fine—plus hearken back to memories of camping trips or park outings.
Unlike many portable furniture options, picnic tables are heavy enough to not blow away on a windy day. Concrete tables are also available, though these are significantly heavier to maneuver. In many cases wood will weather over the seasons, adding to the rustic feel, unless you apply a protective sealant or stain.
Purchase commercial patio furniture
For something a bit more stylish, head to your local home improvement store or outdoor lifestyle outlet. You'll find a variety of outdoor dining furniture—including pieces made of plastic, metal, wicker, wood, and even glass. Some furniture sets may offer extras such as patio umbrellas or comfortable cushions.
Choose something that not only looks good to you but will also be easy to maintain. Keep in mind that unless you have a closed-roof pergola, your furniture will have to stand up to rain—so maybe double-check those fancy cushions to make sure they're waterproof. You'll also need to clean up pollen, dust, and leaves from your furniture, so you may want to steer away from something harder to clean, such as wicker.
Keep the party hot with a fire table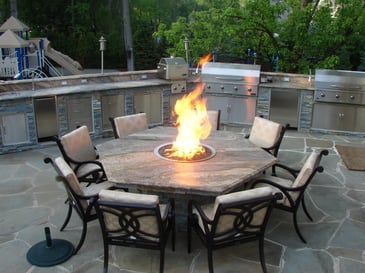 For a dramatic dining experience that extends through the colder seasons, consider installing a fire table, with a gas-fueled fireplace right in the center. You and your friends can ring in the New Year with cocktails or celebrate the holidays without feeling chilly. Just be sure to keep paper plates, napkins, and other flammable items away from the fire.
Seat guests right at your countertop
You can build seating right into your outdoor kitchen design. We've had several clients who raised part of their countertop to accommodate bar seating. This is ideal for guest to chat over drinks, and to keep them within a comfortable conversation range while you man the grill.
Want to customize your kitchen to include built-in seating or even a fire table? Talk to the experts at Unlimited Outdoor Kitchen to find out what's possible.