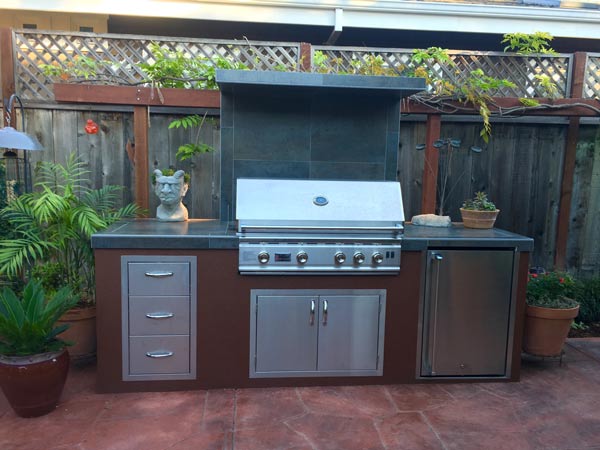 While your outdoor kitchen may not be used as often as your indoor kitchen, it has far more opportunities to get dirty. Knowing that it'll be exposed to dirt, pollen, grass, and rain, it's smart to have a plan in place to keep everything looking as pristine as the day it was installed.
To help you establish some cleaning habits that will keep your outdoor kitchen looking as good as ever, we've listed 5 easy ways you can keep your investment looking and working like new:
How to Maintain Your Outdoor Kitchen
Keep your grill clean and covered: Your grill is the hub of your outdoor kitchen; in fact, without your grill your outdoor kitchen is nothing more than a fancy outdoor counter. To keep your grill as pristine as the day you bought it, take a wire grill brush (a long-handled one so you won't accidentally burn yourself) and scrape your grates as clean as you can get them in both the preheating stage and again almost immediately after you've removed your food. Also, be sure to cover it after each use to protect it from weather damage, rust, or corrosion.
Seal your granite: Have your granite countertop sealed every 3-5 years to protect it against the effects of ultra violet light. A professional will know the exact commercial grade sealant to use to protect your granite against the weather conditions in your area.
Remove dirt and grass: There's no way to completely protect your outdoor kitchen from Mother Nature, but there are some things you can do to keep the mess to a minimum — bag your grass clippings so they don't blow over into your kitchen, sweep regularly, and hose away debris after a storm.
Pressure wash regularly: Most outdoor kitchens incorporate a beautiful stone façade, but the stone can become less beautiful over time as it gets stained by grass clippings, traps grill smoke, soaks in grease from your food, or even begins to harbor mildew. To restore and maintain the beauty, we suggest you pressure wash your outdoor kitchen façade and floor once per year.
Unplug for the season: If you plan on closing your kitchen in fall and winter, turn off your grill's gasline, unplug any appliances you have out there, and drain your plumbing supply lines so pipes can't burst.
If you were thinking about having a custom outdoor kitchen, pergola, or other project built this Summer, now's your chance because we're offering a $5,000 Unlimited Outdoor Kitchen gift card to one lucky person who signs a contract with us between now and Labor Day (Monday, September 5, 2016). Just click the banner below to read the rules and to enter!
If you enjoyed this article, please check out other posts on our blog and join us on Facebook,Twitter, LinkedIn, Google+, and Pinterest to see how Unlimited Outdoor Kitchen can help you build your outdoor lifestyle.