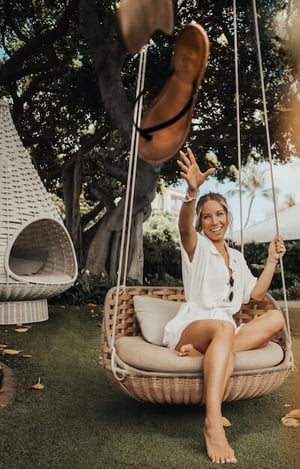 Who doesn't love getting on a good swing every now and again? For many, swings takes us back to our childhoods when we'd play in the backyard or go to the park just to get on a swing and imagine that we were flying.
While you've probably given up the fantasy of flying at this point in your life, there's still something magically relaxing and even fulfilling about being on a swing. If you agree, then why don't you have a swing in your backyard living space?
Ensuring that you have comfortable seating in your outdoor kitchen is one thing, but a swing — that's another entirely.
When you're ready to install a swing in your backyard living area, the first thing you'll need to decide is what type of swing you want. Let's look at your options.
Just keep swinging...
Porch Swing
A porch swing is probably the type of swing you first pictured when we started talking about outdoor swings. Porch swings can be simple or extravagant. They're most commonly made out of wood and resemble a park bench, but sometimes they're covered in cushions and feel more like a cozy couch.
Chair Swing
A chair swing can be designed exactly like a porch swing, but it is meant for one person rather than two or more. Chair swings can be made out of wood, but are more commonly made out of wicker and are often shaped like a dome.
Chair swings are less about moving and more about relaxing, so whether or not you have kids living at home may be a factor in deciding if a chair swing is right for your home.
Tree Swing
The swings that we see on swing sets are also called tree swings because before there were swing sets, there were trees that people tied their swings to. Tree swings with a wooden seat have a timeless look, and when attached to a tree, a beam above your deck, or a pergola, they can be quite lovely.
If you like the idea of swinging solo in your outdoor living space, and you want to infuse Secret Garden vibes into your outdoor kitchen, a tree swing will be perfect.
Hammock
While hammocks are not traditionally considered to be swings, they basically fulfill the same purpose as a cozy chair swing. Hammocks are great places to read or nap as you sway back and forth with plenty of airflow around your entire body. You can also sit in a hammock so that your back is against the long edge.
Hammocks are one of the easiest additions to an outdoor living area as far as swings go because many designs stand on their own and do not require you to attach them overhead.
Tire Swing
Depending on the style and decor of your outdoor kitchen and patio area, a tire swing might not look quite right, or it could match exquisitely and serve as the icing on the cake! Tire swings are especially great for kids, and the best part is, several kids can pile onto one tire at once. The more, the merrier!
Bells and whistles for your patio swing
Swings add personality to your patio, and outfitting your swing with pillows and blankets will make it even more inviting. Another personality-adding feature that you can add to a swing would be to get the wood engraved or the cushions customized. Your patio is an extension of your home, so go all out in making sure it's an accurate expression of you.
If swings aren't your thing, there are plenty of other outdoor seating options for your outdoor kitchen and backyard living space. Contact us today for tips on designing the perfect outdoor kitchen for your home.