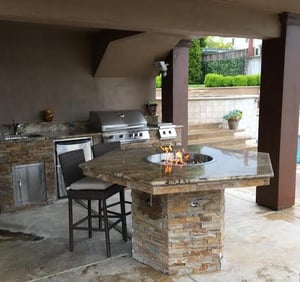 When you picture yourself sitting around a fire in your backyard with family and friends, what type of fire do you envision? Is it a traditional fire pit, or is it a trendy fire table?
While fire pits and fire tables both make for great additions to an outdoor kitchen, they each infuse a vastly different aura into your outdoor living space. Can't decide which type of fire feature is right for your space? Keep reading.
Do you want to cook over the fire?
This is an important question to ask yourself when determining if you want a fire pit or a fire table for your outdoor kitchen. Think about whether you'd like to cook over the fire as well what you'd like to cook. Smaller items like marshmallows and hot dogs could easily be roasted over the flame of a fire a table, but if you're wanting to cook anything bigger than that, you should probably opt for a fire pit.
Not only is a fire pit larger, making it more convenient for cooking, but if it's a wood-burning fireplace, then it has the potential to get much hotter and cook food faster and more thoroughly.
Check out our blog article on gourmet bonfires and using your fire pit to its full potential!
Do you want something ritzy or relaxed?
Generally speaking, fire tables are smaller than fire pits, and are designed to be accent features for outdoor kitchens and patios. Depending on their size and placement, they may more closely resemble a candlelit setting than a campfire. The homeowners who choose fire tables for their outdoor kitchens are usually those looking for a statement piece; the drama and luxury of a fire table offers just that.
On the other hand, fire pits are common choices for homeowners who want to gather around a cozy camp fire with family and friends. Whether they're roasting s'mores and telling ghost stories with their kids, or sharing a bottle of wine and catching up with good friends, those who opt for fire pits are usually those who want a casual setting where they can relax and unwind.
Don't miss our article, 4 Things to Consider When Designing an Outdoor Fireplace.
How portable do you want your fire?
Like the rest of our outdoor kitchens, fire pits and fire tables are completely customizable. That being said, fire tables are less likely to be designed for portability than fire pits are. We've often built fire tables into the bars of outdoor kitchens. This placement looks amazing, but it's also completely stationary. The stationary aspect shouldn't be considered a con; it should just be considered.
Fire pits can be built into your outdoor kitchen, too, but may times, homeowners don't add fire pits to their outdoor kitchens until later. If that's the case, they will often opt for a portable fire pit or a fire bowl.
For related reading, see Can I Put a Fire Pit on My Deck?
Light it up!
Hopefully, after reading this, you have a better idea of the vibe you had in mind for your outdoor kitchen. Remember though, when it comes to customizing your outdoor kitchen, the sky is pretty much the limit. Our professional outdoor kitchen designers can help you put together a kitchen that goes against the grain, yet perfectly fits your outdoor lifestyle. Contact us today!