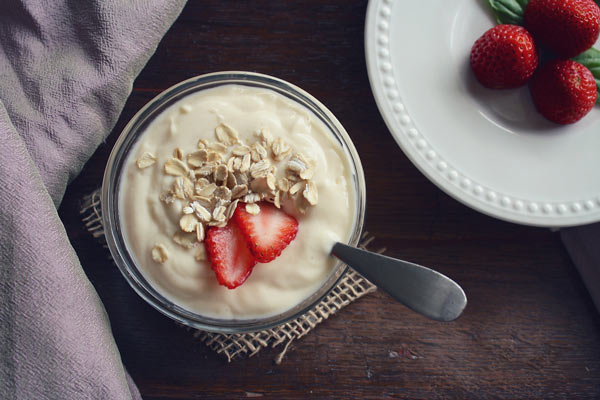 Let's face it, it's too hot to even turn on the oven, let alone eat large, heavy meals. To help you satisfy your summer appetite, we've curated this list of summer snacks that incorporate fresh fruits and vegetables as well as tried and true favorites.
We suggest you try one of these recipes next time you're looking for something to enjoy by the pool or to munch on between meals:
Quick and Easy Summer Snack Recipes
Fresh Fruit with Fluffy Citrus Yogurt Dip
Ingredients
8 oz cream cheese
One 7 oz jar marshmallow fluff
Juice from one orange or 2-3 limes
Instructions
Take the cream cheese out of the fridge and let it soften until it can be easily mixed
Once the cream cheese is soft, add in the marshmallow fluff and fruit juice and mix until evenly blended
Serve with fresh fruit — grapes and strawberries are great choices!
Recipe from This Week for Dinner
---
Chewy Homemade Granola Bars
Ingredients
2 cups old fashioned oats
½ cup shredded coconut
½ cup sliced almonds
¼ cup brown sugar
½ cup agave
2 tbsp. coconut oil
2 tsp. vanilla extract
½ tsp. salt
Dark chocolate chips
Nutella
Instructions
Preheat your oven to 325 F
Spread your oats, coconut, and almonds in a thin layer on a baking sheet and toast in the oven until golden brown (about 15-18 minutes)
Combine the brown sugar, agave, coconut oil, vanilla, and salt in a saucepan over medium heat until the brown sugar has completely dissolved
Add the toasted oats, coconut, and almonds into the saucepan with the brown sugar, agave, coconut oil, vanilla, and salt mixture and stir until the solid pieces are completely covered
Spray an 8"x8" baking dish with cooking spray and press the mixture into the dish so that it's even across the top and packed kind of tightly — be careful, as the mixture will likely still be pretty hot. Let the mixture cool to room temperature then cut into bars.
Melt your dark chocolate chips in a small bowl with some Nutella. Stir this mixture together then drizzle over your granola bars to your liking
Recipe from Yummy Healthy Easy
---
PB&J and Fruit Quesadillas
Ingredients
2 tortillas
1/2 banana (sliced)
2 - 4 strawberries (sliced)
1 - 2 tbsps natural peanut butter
1 - 2 tbsps of your favorite jam
Directions
Preheat your pan over medium heat
Spread peanut butter on one side of one of your tortillas, and spread jam on one side of your other tortilla
Place one of your tortillas peanut butter or jam side up in the preheated pan and cover with sliced fruit. Cover with your other tortilla peanut butter or jam side down
Cook until bottom tortilla is crisp, flip, then cook until second tortilla is crisp
---
Eggplant, Avocado, and Fried Cheese Toast
Ingredients
2 slices grainy bread
1 avocado, mashed with salt and pepper
¼ cup cubed, cooked eggplant
6 pieces of homemade paneer
Instructions
Lightly fry your eggplant cubes and paneer until golden brown on all sides
Toast your bread
Spread on the mashed avocado like you would butter, and top with eggplant and paneer to taste
Recipe from Because I Like Chocolate
---
Sweet and Salty Prosciutto and Cantaloupe
Ingredients
One 3 oz package prosciutto
1 cantaloupe
5 basil leaves (chopped)
black pepper
Instructions
Cut your cantaloupe into bit sized chunks
Roll your slices of prosciutto into spirals, then place one spiral on top of each cantaloupe chunk securing the two together with a toothpick
Combine your chopped basil and black pepper and sprinkle on top of your mini fruit skewers
If these recipes sound good but you'd rather prepare them in a custom outdoor kitchen, now's your chance! We're offering a $5,000 Unlimited Outdoor Kitchen gift card to one lucky person who signs a contract with us between now and Labor Day (Monday, September 5, 2016). Just click the banner below to read the rules and to enter!
If you enjoyed this article, please check out other posts on our blog and join us on Facebook, Twitter, LinkedIn, Google+, and Pinterest to see how Unlimited Outdoor Kitchen can help you build your outdoor lifestyle.