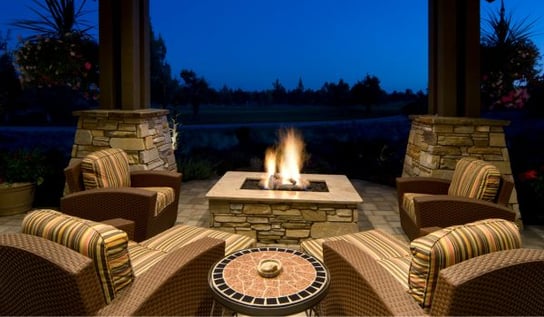 Nothing is better than gathering around an outdoor fire pit and conversing with your friends and family on a summer night. When transforming your backyard into a personal paradise, adding a fire pit can truly bring the whole place together. When adding a fire pit, it's important to consider the landscaping and surrounding features.
With these in mind, you can create a unique space that combines the custom fire feature seamlessly with your backyard. In this blog post, we will explore backyard fire pit landscaping ideas that can create an inviting space outdoors.

Choose the Perfect Location

The location of the outdoor fire pit may be one of the most important things to consider. A good location takes into consideration the seating space needed, the flow of the space, and the potential views.
Figure how many guests you want to seat so there is ample room to enjoy the backyard fire pit. The flow of the space takes into account the chairs and tables that lay around.
Make sure the layout makes it easy for guests to move around the feature with no fall risks. Finally, focus on the potential views to help create a cozy gathering space for your guests.
Incorporate Natural Elements into the Landscape

When building outdoors, it's good to remember that natural elements will look best with the rest of the backyard. Stick to using materials like stone or gravel to define the fire pit while making it feel cohesive with your space.

You could also consider what makes your pit more unique but still blends in with nature. Will it be a natural rock fire pit or maybe a natural wood fire? Consider the level of privacy you may want when planning the surrounding space for the fire pit.

Ensure that your yard also has enough greenery to make the space feel natural and allow for better privacy. Having greenery in the right spots can help your guests disconnect from the busy world and connect more with each other.

Read >> Landscaping Around Your Outdoor Kitchen
Create Comfortable Seating Areas

The success of a backyard fire pit lies in its ability to evoke a sense of relaxation and comfort. Incorporating comfortable seating options ensures guests can socialize while using the seating area.
Consider built-in benches, cozy outdoor sofas, or stylish lounge chairs. Enhance comfort with plush cushions that can withstand the elements. By creating an inviting seating area, you'll ensure that your outdoor fire pit becomes the go-to spot for memorable conversations.
Light the Way for Ambience and Safety

This tip may seem less important to some, considering a nighttime fire can light the night. But proper lighting is crucial for both ambiance and safety in your backyard fire pit landscape. You wouldn't want guests stumbling in the dark.
Consider installing soft, warm lighting along pathways, steps, and seating areas to create an easy way for guests to walk around. Besides providing safety, good outdoor lighting can add depth and visual interest to the space.
Read >> Lighting Your Outdoor Living Area: Lighting Styles
Add Fire Pit Accessories and Decor

Do you have a pool? It's the perfect time to use it! Before your guests arrive, ensure your pool has been cleaned properly and is safe for public use for the party.
Add the finishing touches to your fire pit landscape with unique decor. Choose a fire pit that suits your preferences. You can choose gas or wood-burning options, fire glass, or fire rocks. Each has its flair to help you show off your style.

Consider incorporating functional elements like a firewood storage area or a built-in beverage cooler to elevate the space further. Adding outdoor artwork, decorative lanterns, or weather-resistant rugs can help reflect your unique personal touch.

Embrace the Night

With the right approach to backyard landscaping, you can transform your home into a captivating and functional outdoor space, even at night.
Choose the best location for your backyard. Add natural elements to create a pleasant atmosphere. Create comfortable seating areas with ample lighting and decor. This will enhance your backyard experience.

Hosting small parties or just wanting to enjoy nature alone? These backyard fire pit landscaping ideas will help you create a relaxing and connected atmosphere in your backyard. Make the most of your time outdoors with the best outdoor living space.
Read >> 5 Types of Fire Pits and Their Benefits
Looking for More Ways to Improve Your Backyard Space?
We're here to help you design an outdoor paradise you and your guests will love. Want to add an outdoor kitchen, fire pit, or pergola to show off? We can help!
Give us a call at (650) 279-6506 or click the banner below. We'll visit your home and conduct a free consultation to get started. We're ready when you are!