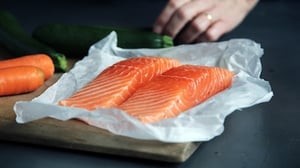 Last week we proved that food can still taste good on the keto diet, and this week, we're going to prove the same point about the Whole30 diet.
You'll definitely want to work these grilled recipes into your Whole30 meal planning. Each recipe is free of processed ingredients and full of good clean flavor!
Enjoy!
The below ingredients will make four tasty patties and plenty of salsa to dollop on top. Find the full recipe for salmon burgers and avocado salsa here.
Salmon Burger Ingredients
1 lb. salmon fillet
1/2 cup Panko crumbs
1 egg
2 green onions chopped
1/2 poblano pepper seeded and chopped
1 tbsp. fresh lemon or lime juice
1/2 tsp. salt
1/4 tsp. pepper
Avocado Salsa Ingredients
1 large ripe avocado, peeled seeded and chopped
1/2 poblano pepper seeded and chopped
2 green onions, chopped
1 tbsp. fresh lemon or lime juice
1/4 tsp. salt
1/4 tsp. pepper
1/4 tsp. salt
For other burger ideas (that are not Whole30), check out these spicy burger recipes, discover alternative burger options, or create the perfect all-American hamburger!
Easy does it with this deceptively simple steak. The ingredients are below, and here's how you put them all together for an unbelievable balsamic flank steak...
Steak Ingredients
1.33 lbs. lean flank steak

1.5 tbsp. olive oil

2 tbsp. balsamic vinegar

2 garlic cloves, minced

1 tsp. dried rosemary

1 tsp. dried oregano

1 tsp. salt

1/2 tsp. pepper

4 tomatoes, quartered

1/2 tsp. garlic powder

1/2 tsp. oregano

1/4 cup basil

Cooking spray

Salt and pepper
For more tips and ideas on steak, check out our blog articles on steak marinades and grilling steaks to perfection.
Who knew you could eat so many delicious burgers on a Whole30 diet! Follow this recipe for a Greek-inspired burger that's practically fat free. Grab these ingredients and fire up the grill to get started...
Burger Ingredients
1 lb. ground turkey
salt and pepper
¼ cup chopped spinach
¼ cup chopped roasted red peppers
2 tbsp. tahini
¼ cup minced red onion
2 tbsp. chopped black olives
¼ cup chopped parsley
Tahini Sauce Ingredients
2 tbsp. tahini
1 tbsp. apple cider vinegar
2-3 tbsp. water
Salt and pepper
Ready, set, GRILL!
If you're ready to try these recipes out on a new grill, then you're in the right place. Click on the banner below to start shopping!