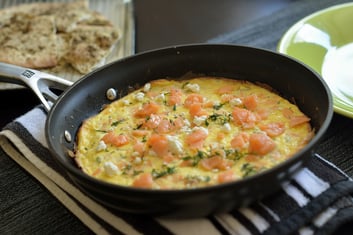 If you have a custom outdoor kitchen in your backyard, we know you'll want to make the most of it all season long. If you're planning something for mom this Mother's Day, or just want to kick back on a lazy weekend morning, why not host a springtime brunch in your outdoor living area?
You can enjoy the slightly cooler weather and cook before the heat of the day sets in, plus experiment with new culinary options.
Here are a few ideas for hosting brunch in your outdoor kitchen:
Set the stage
Brunch is all about relaxed enjoyment, so you'll want to have a comfortable place for you and your guests to linger. Make sure you've got some comfortable seating available and spaces for serving and eating. For a bit of springtime cheer, consider vases with cut flowers (or purchase silk ones that you can rearrange for future events).
As your guests arrive, brew coffee or tea, set out orange juice, or even prepare mimosas.
If the weather forecasts indicate that it might get a bit hot or sunny near the end of your meal, be sure to have some options for shade set up so you won't be forced back indoors.
Cook up hearty skillets and casseroles
If you're already familiar with how to use cast iron on the grill, then a breakfast skillet will be a breeze for you to whip up. Experiment with your favorite breakfast ingredients, such as fried or scrambled eggs, bacon, sausage links, thinly sliced potatoes, and veggies such as tomatoes or kale. The skillet will bring out unique flavors thanks to the high-temperature method.
If you don't have a cast iron skillet, you can use a disposable aluminum pan to create a hearty breakfast casserole.
Make breakfast pizza
If you're fortunate enough to have your own backyard pizza oven, put it to good use with a breakfast pizza. (A skillet on the grill can work as an alternative cooking method.) Top fresh dough with ingredients such as:
An egg (be sure to check for doneness before removing the pizza!)
Feta or goat cheese
Sliced veggies such as mushrooms or bell peppers
Chives or shallots
Fresh or sun-dried tomatoes
Thinly sliced ham or prosciutto
Bacon crumbles
And for dessert …
For a twist on the traditional fruit salad, make fruit kebabs and let the heat of the grill caramelize them slightly. Pineapples, melons, pears, and other fruits with a firm texture work especially well. You can also add pre-cooked breakfast meats such as sausage and ham so that you can take the kebab off just as the fruit starts to caramelize without worrying about doneness.
In the mood for something especially sweet? Try your hand at French toast kebabs, or cut up pieces of pound cake and put them on a skewer with strawberries.
Or you can toss a few doughnuts onto the grill—leave them just long enough to leave grill marks—for an unforgettable dessert.
We hope these tips help you get the creative juices flowing. No matter what you make, the most important thing is that you and your loved ones have a chance to relax and connect. Now get out there and enjoy all that your outdoor kitchen has to offer!