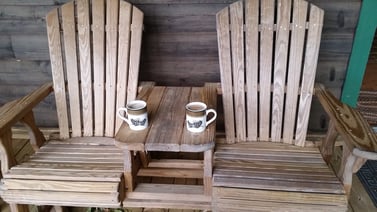 If you've invested in a beautiful custom outdoor kitchen, you'll want to enjoy it throughout the year—and the holidays are no exception.
Whether you're having the whole family over or inviting a select few of your closest friends, why not take the party outside? It can be as small as enjoying coffee and marshmallows around your fire table, or—if it's a mild San Jose day—hosting the entire celebration outdoors.
Here are a few ideas for hosting your holiday celebration in your backyard living area:
Prepare your space
First, do a quick cleanup of your kitchen, including your countertops and your grill grates, if you're planning to use your grill (and we suggest you do!).
You'll also want to check to make sure you have enough propane left in your tank (here's how to gauge it) because if you run out on Christmas Day, you probably won't find many stores open to help you out.
Worried about it being too cold for comfort? Think ahead about ways you can warm up your space. If you already have a fire table or fire pit, you should be good to go. Otherwise, provide fleece blankets or invest in a patio heater to keep everyone nice and toasty.
Finally, if you'd like to do a little holiday decorating, visit our holiday décor Pinterest board for a little inspiration. Also, if you're stringing together lights, be sure to follow these electrical safety tips!
Plan your menu
Do you have a barbecue smoker? If so, you're in luck—you can make delicious smoked turkey that will taste divine (plus let off a mouthwatering aroma that will drive your neighbors to envy!).
You can also create a twist on the seafood-on-Christmas-Eve tradition with a perfectly-grilled salmon or tuna steak, and then pair it with the perfect wine.
If your celebration will be earlier in the day, you can serve up a breakfast skillet or a baked treat using a cast-iron pan on the grill. Eating after dark? Set up a fondue pot or another treat you can cook over an open fire.
Relax and enjoy!
Don't get caught up in the hustle of the holiday season, and don't try to make every detail perfect. Instead, relax and just enjoy the company you're with. Spend time telling stories or reflecting on the past year and the surprises and good things it's brought, and talk about your hopes for the new year to come.
From all of us at Unlimited Outdoor Kitchen, we wish you a very happy holiday season!