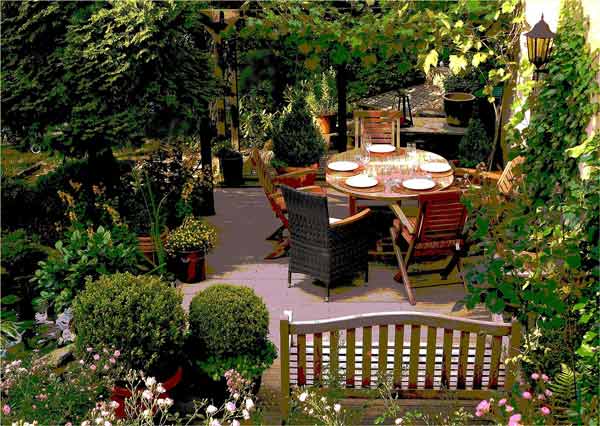 Last year we published an article on 2015's biggest backyard design trends and you guys loved it. In fact, it remains one of our most popular articles to date!
So, since you're clearly interested in keeping up with the latest trends, here are the post popular backyard decorating, landscaping, and building choices we saw this year.
2016's Hottest Outdoor Design Trends
Creating a Honey Bee Heaven: With bee populations continuing to perish, people are starting to take matters into their own hands by landscaping their yards with bee-friendly, nectar-producing plants like fruit trees and honeysuckle.
Going Less Green: One way people are choosing to live a greener lifestyle is by planting less green... grass, that is! Less grass means less work in the way of watering, maintenance, and chemical treatments meant to keep your lawn looking like a golf course.
Going with the Flow: The sound of flowing, trickling, babbling, or even bubbling water is highly therapeutic, which is why backyard water features were quite popular in 2016. Water features are beautiful, functional, and come in a wide variety of sizes, designs, and price points, so we aren't surprised how popular they are!
Personalized Gardening: Not only was fruit and vegetable gardening popular this year, but so was garden decoration. No longer just a place to grow your own food, gardens acted as another chance to express yourself with decor like custom benches or sculptures that turn your yard into an extension of your home.
Outdoor Entertaining: People are bringing the comforts of home outdoors by having outdoor kitchens, outdoor living rooms, and outdoor fireplaces built in their backyards for socializing and entertaining. We might be a little biased, but this was our favorite backyard design trend of 2016.
There's nothing wrong with being a little trendy—espeically with trends like these that are full of personality and have a positive impact on the environment. We can help you take your backyard from groan to great; all you have to do is give us a call at (888) 747-4554 or contact us online with questions, or, if you already know exactly what you want, click the banner below to request your free estimate and get started today!
If you enjoyed this article, please check out other posts on our blog and join us on Facebook, Twitter, LinkedIn, Google+, and Pinterest to see how Unlimited Outdoor Kitchen can help you build your outdoor lifestyle.