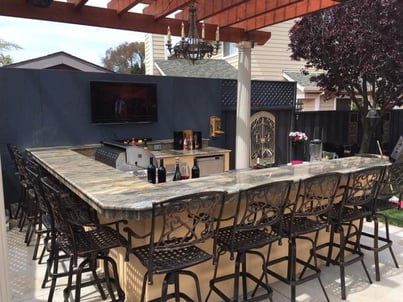 One of the biggest backyard trends since the 2000s has been an emphasis on outdoor living. Sure, people have had backyard grills for decades, but since the turn of the millennium—and especially during the 2010s—that simple outdoor setup has gotten a lot more polished and comfortable.
Today's outdoor kitchens look a lot different than even those from five or six years ago. Some aspects are just smart design basics—such as having enough counter space, and grouping appliances into distinct "Zones" for ease of use. But we're also seeing some trends gain steam over the years.
Here are some of the most significant elements of modern outdoor kitchen design:
More appliances
While some outdoor kitchen owners are content with just a high-quality grill and a couple of feet of counter space for prep work, there are an increasing number of homeowners who want many of the same appliances as in their indoor kitchen.
We're seeing more outdoor kitchen sinks, refrigerators and beverage chillers, warming drawers and side burners. Oftentimes cabinets for storage are included, typically built out of weather-resistant stainless steel.
The emphasis is on using the space as a full kitchen that doesn't require the cook to have to run in and out the back door constantly. Everything they need is right at their fingertips.
Pizza ovens and smokers
It's not unusual to see a pizza oven or smoker in addition to the grill—sometimes built right into the kitchen itself. Today's outdoor kitchen owners are more likely to be interested in the low-and-slow methods of smoking pork, ham, turkey, and more with their own outdoor smokers. In addition, the Japanese method of kamado cooking has gained traction here in the U.S., with increased sales of ceramic cookers such as the Big Green Egg.
Pizza ovens have also increased in popularity. While ordering delivery from a pizza chain may be easier and faster, many kitchen owners far prefer the flavors brought out in a backyard pizza oven's high-temperature environment. And honestly, who can blame them?
Bar seating
The modern outdoor kitchen isn't just a place to cook outside—it's a place to entertain friends and family. And if you can keep your guests within comfortable conversation range as you man the grill, all the better. That's probably why we're seeing more kitchens built with dual-height countertops that go beyond prep space and double as a place for bar seating.
Year-round comfort
One of the biggest elements of modern outdoor kitchen design is the emphasis on comfort. At the least, you'll see well-planned seating arrangements, beneath pergolas or other sources of shade. We're even seeing more outdoor heaters and fire pits to extend the dining-outside season well into the winter.
Rain becomes only a minor issue if you have a closed-roof pergola to keep all of your guests dry and comfortable. We've also helped customers install ceiling fans, televisions, and entertainment centers beneath rain-proof roofs. Why ever spend time indoors again?
Other trends
The design elements above are all motivated by a change in how homeowners use their outdoor kitchens. There are a few other trends emerging that are more aesthetic in nature, and may or may not stick around, including:
Colored appliances (black, red, etc.)
Extensive cabinetry
Beer taps
Wine refrigerators
Are you dreaming of a creating your own outdoor kitchen design? Whether you want to go all-out with the modern trends above or simply want a small barbecue island, the professional kitchen designers at Unlimited Outdoor Kitchen can help you make it truly yours. Give us a call at 1-888-7-GRILL-IT, or get in touch with us online. We'd love to make your dream a reality!