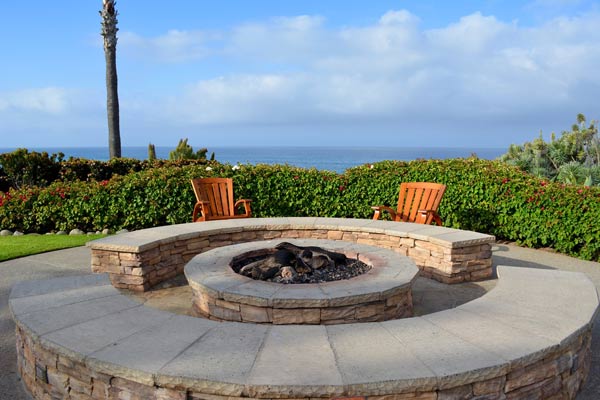 A backyard fire pit is a lot more than initially meets the eye; it's a cooking station for gourmet bonfire foods, its a fun way to use your backyard in the fall & winter, and it's a warm, inviting place where people gather and connect with each other.
If you think your backyard can benefit from the extra magic only a fire pit can add, here are some things you need to think about before breaking ground on your new home addition:
Consider These Things Before Installing a Backyard Fire Pit
Cost: Custom fire pits can be built out of a myriad of different materials; granite, porcelain, slate, travertine, flagstone, stacked stone, and stucco are among the most popular choices, but your options don't stop there. Setting a firm budget will help you narrow down your choices, so you don't overspend on building materials with nothing left over to cover the actual construction.
Design: A custom fire pit isn't something you just pack up and put away when you aren't using it. Since this new addition will become a permanent part of your backyard, we suggest you have the fire pit built out of materials that match—or at least complement—your home for a cohesive look and feel. Your designer will be able to help you create a finished product that not only looks great, but is the right size for your yard with plenty of room for seating around the fire!
Fuel for the fire: You have two fuel options for outdoor fireplaces: wood or gas. Wood burning fire pits give off a great crackling sound, but they can get very smokey. On the other hand, gas burning fire pits are smoke-free and very safe, but you'll need to have a pipeline installed before the fire pit is built.
The foundation: You may think your deck is a great place for your new fire feature, but starting a fire that close to so much wood is a recipe for disaster. You fire pit should be built at least 10 feet away from your home or deck, and will need a non-flammable foundation such as paver stones, gravel, brick, etc.
General ambiance: The fire will certainly go a long way in creating a warm, cozy environment, but you can add to the ambiance with a few strategically placed solar lights or strings of LED lights, comfortable seating, and even soft music.
Keep these tips in mind and your backyard fire pit project will go off without a hitch! If you're in the market for a custom outdoor fireplace, fire pit, or fire table we can help make your dreams a reality with our expert design, building, and installation services. Give us a call at (888) 747-4554 or click the banner below to request a free estimate!
If you enjoyed this article, please check out other posts on our blog and join us on Facebook, Twitter, LinkedIn, Google+, and Pinterest to see how Unlimited Outdoor Kitchen can help you build your outdoor lifestyle.