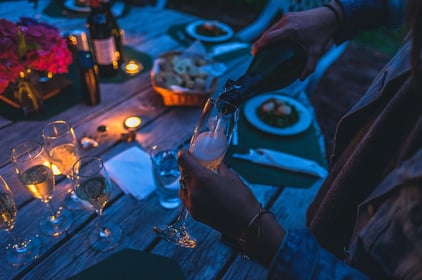 Are you ready to ring in the New Year? For some people, big flashy parties in the city surrounded by strangers is the only way they'd have it. But for others of us, we'd prefer something a little more personal and low-key.
If you love noisy bars and clubs, by all means, get out there and party. But if huge crowds and blaring music aren't your style (or if you prefer to blare music of your own choosing!) why not host an intimate party in your outdoor kitchen?
Not only will you avoid battling traffic as your first experience of the new year, but you can make the most of the beautiful custom outdoor living area you're so proud of.
Here are 12 steps to hosting New Year's Eve your way:
Make your private guest list and get the word out (even if it's just via social media or text).


Decide whether this will be a formal soiree with guests dressing to the nines, or a casual party where comfort is key. After all, it's your party!


Do a quick cleaning of your outdoor kitchen surfaces.


Set up some extra lighting—after all, it will be dark for most of the party.


Make sure everyone stays warm throughout the night.


Fire up the grill! We recommend perfectly juicy steaks for a small group of friends, or classy kebabs or wood-fired pizza for a larger group.


If you prefer to cook ahead of time, why not make something delicious in your smoker?


Select the right beverages for the evening.


Gather guests around the warmth of the fire, perhaps with a s'mores bar.


Take time to reflect on 2017, and talk about your hopes for 2018.


When it's time for your guests to leave, make sure they're able to drive safely home. (Provide alternative transportation for them if they're not!)


When the party's over, shut off all outdoor appliances and lights, extinguish your fire completely, and relax after a well-executed start to the year!


From all of us here at Unlimited Outdoor Kitchen, we wish you the very best for 2018!