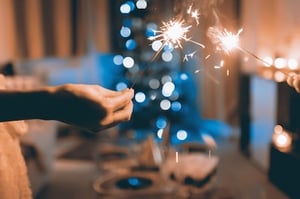 Ah, Labor Day,.. The official end of summer and wearing of white (supposedly). Labor Day is a holiday honoring those who work, and we celebrate it by not working at all.
If you're spending the first Monday of September away from work this year, you probably want to relax and enjoy the day. But you also want to celebrate with a party in your outdoor living space.
Then again, you don't want to waste the holiday by working too hard pulling a party together.
You can have it both ways. Here are some tips for planning and hosting a great Labor Day party with minimal labor.
BYO...X
Just because you're hosting doesn't mean you have to do it all. Think of one thing that if left off the menu would make your party prep ten times easier. Meat? Beer? Sides? Whatever it is, tell your guests to bring that thing.
BYOB invites are a great way to go. Some guests actually prefer BYOB because it gives them the freedom to choose their preferred beer with a grilled meal. If you're fine with handling drinks, but the meat seems like more work than you're willing to put in on Labor Day, just tell people that if they bring their own meat, you'll grill it for them. (You are, after all, a grill master.)
Side dishes are also a good BYO option because no matter how simple each side is individually, as soon as you have to prepare multiple sides at once, they can become a huge distraction and take up your whole day.
To really simplify things, declare the entire party a potluck! Tell your guests that you'll provide drinks, dinnerware, and a beautifully modern outdoor kitchen dining space.
Paper and plastic for the win!
Speaking of dinnerware, who are you trying to impress with your ceramic plates, crystal glasses and shiny silverware? Put those away and get out some plasticware for this Labor Day party. You'll thank yourself later when you're not loading the dishwasher until midnight.
Worried that paper or plastic looks tacky, or you're worried about using so much plastic? Try disposable wooden plates, cutlery and cups, or keep an eye out for biodegradable, plant-based cutlery and plates at your local supermarket. They're adorable and disposable!
Get a (fairly) accurate head count
Some invitees are going to be non-committal about your party no matter what, but at least get an estimate of how many people might be attending your Labor Day cookout. If you don't, you're either going to end up having too much food or not enough.
The latter is a host's worst nightmare: You carefully put everything together and set it out (Pinterest style!) only to second guess yourself and decide that it doesn't look like enough. So you quickly run to the store to pick up more food right before the guests start to arrive, which really cuts into you prep time and also makes you late to your own party. An even worse scenario is having to make a store run mid-party because more people showed up than you anticipated and they were hungrier than your expected.
Having too much food is a waste of money, and having too little is the ultimate party foul. Save yourself from either mistake by getting your guests to RSVP.
Chalk up the menu
A chalk menu serves two purposes. First, it lets your guests know at a glance what you're serving, and secondly, it keeps you from forgetting to serve something that you had intended to.
How many times have you put together banana pudding or potato salad in advance and then left it in the refrigerator only to find it after everyone had left and and you're putting away leftovers? So frustrating, right?
To avoid this, decide on the perfect barbecue menu and write it on the chalkboard several days in advance so that you don't have to worry about it on the day of the party. You can also the chalkboard as a checklist when you're preparing and setting out food. If you still forget something, you can count on your guests to remind you about the banana pudding that's on the menu but still hiding in the fridge.
Looking for more?
If you'd like more tips on hosting and entertaining in your outdoor kitchen and dining space, check out these articles: